Igreja da Graça - Santarém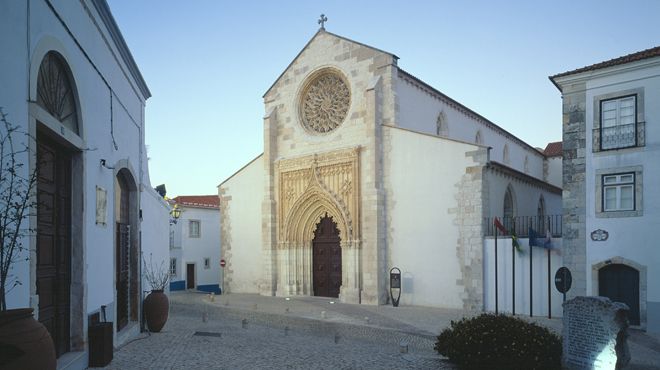 Igreja da Graça - Santarém
The splendour of Flamboyant Gothic.

Although its construction was only completed in the early 15th century, the first stone of Our Lady of Grace Church was laid in 1380 by D. Afonso Telo de Menezes, the first Count of Ourém, who decided to found a convent in the city according to the rules of the Order of Saint Augustine. This building brought to Santarém the splendour of the Flamboyant Gothic style, following the architectural and decorative innovations already used in the Monastery of Batalha.

The facade is one of the most interesting aspects of the church, marked by an elegant portico of archivolts, superimposed by a conopial arch, very common in the Flamboyant Gothic style, and surrounded by an exquisitely decorative frame that fills the entire space of the central body. On top of that, an impressive rosette of great intrinsic beauty, said to be made of a single block of stone, reveals the stylistic maturity of its artists.

A particular characteristic of this temple is its unevenness in relation to the exterior. Only after descending a few steps is there access to the vast interior, with three naves and marked by large columns. The sanctuary, a little further down, is covered by ogives in the shape of a cross, adorned with tall windows that light up the altar. The lighting is enhanced by a rose window and a series of hatchets around the church's main body, revealing a perfect understanding of the Gothic structure.

On the right arm of the cross (the side of the Epistle), resting on eight lions, stands the shared tomb of D. Pedro de Menezes, grandson of the founder, and his wife D. Beatriz Coutinho, with carved sculptures holding hands, like the tombs in the Monastery of Batalha. As well as floral and heraldic elements, the tomb's decoration includes repetitions of the figuration of its dictum: a branch of the oleaster tree and the word "Aleo", alluding to the pride of the warrior who in 1415 participated in the conquest of Ceuta and was later governor of City.

Facing the altar, in a southern apse, we find the shallow tomb of the discoverer of Brazil, Pedro Álvares Cabral, and his wife D. Isabel de Castro, the fourth granddaughter of the founder of this temple.
Contacts
Address:
Largo Pedro Álvares Cabral 
2000-091 Santarém
Telephone:
+351 243 304 441
Tuesday, Wednesday, Saturday and Sunday: 9.30am-12.30pm / 2pm-5.30pm; Thursday and Friday: 10am-12.30pm / 2pm-5.30pm; Closed Monday and Holidays.
Accessible circulation inside:
Accessible information:
Care skills:
Support products/services available:
---