Igreja de São Francisco / Capela dos Ossos - Évora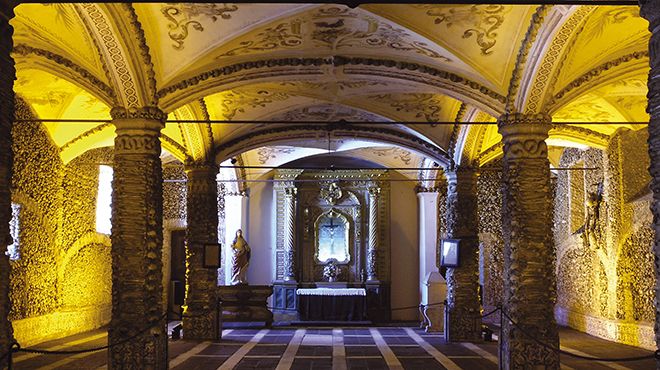 Igreja de São Francisco / Capela dos Ossos - Évora
Church of São Francisco - Évora
One of the striking features of the façade is a church porch with arches of different styles - a typical example of the "marriage" between Gothic and Moorish style found in so many monuments of this region in Portugal. Over the Manueline doorway we can see the emblems of the kings that commissioned its construction - D. João II and D. Manuel I - whose emblems were the pelican and armillary sphere respectively.

One particularity of the Church is that it has a single nave, terminating in a ribbed vaulted ceiling, that has the largest span of all Portuguese Gothic architecture. On the sides we can see twelve chapels, all covered in Baroque carved woodwork. The main chapel, dating from the early 16th century, still maintains important Renaissance features such as the pulpits. It's well worth noting the harmonious decoration of stone, carved woodwork and azulejo tiles in the chapel of the third order, on one of the arms of the transept.

Inside, visitors can see the strange Bones Chapel, built during the Filippine period (17th-century). The pillars and walls are completely covered by bones. It's also worth noting the late Renaissance doorway where the capitals of the columns seem to be decorated in a different manner according to whether one is looking from the exterior or interior.
Contacts
Address:
Praça 1º de Maio
7000-650 Évora
Telephone:
+351 266 704 521
Disabled access
Accessible entrance:
Accessible circulation inside:
---
---