In the Heart of Portugal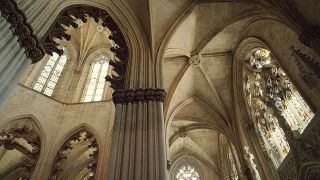 Come and discover the "heart of Portugal" - following routes that we've prepared for you. Over the centuries, this zone - the cradle of Portuguese identity – has served as a vital cultural crossroads and the setting for key historical facts.

We propose four itineraries, that include three of Portugal's most important monuments classified as world Heritage sites by UNESCO – the Monastery of Alcobaça, The Convent of Christ and the Monastery of Batalha. Linked to key episodes in Portuguese history, these exquisite monuments combine various architectural styles. The oldest, the Monastery of Alcobaça was founded by Portugal's first king, and pertained to the Order of Cistercians, which played an essential role in Portugal's agricultural and cultural development. The Convent of Christ - where one still senses the mystique of the Knights Templar - is located next to the castle built in 1160 by the Military Order, that chose Tomar as the bastion for defence and expansion of the territory conquered from the Moors. The Monastery of Batalha - a masterpiece of late Gothic architecture - pays testimony to affirmation of Portuguese independence against the powerful Kingdom of Castille.
---