Madeira's levadas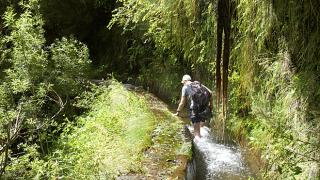 About 3,000km of levadas (irrigation channels) to explore, discovering breathtaking landscapes: a unique encounter with nature.

Alongside its natural beauty, Madeira has another no less surprising beauty to offer: its great network of irrigation channels - the Levadas.

These waterways are a living reminder of the titanic effort of past generations to distribute the abundant water that flows from springs at the top of the mountains amongst the slopes and valleys. They cover several protected areas including, most importantly, the Madeira Natural Park and the Funchal Ecological Park.

Most of the trails are quite accessible, but there are varying degrees of difficulty, so you are advised to consult professionals in the field and specific publications on the subject, and use suitable equipment.

Apart from the footpaths they provide, the levadas are sometimes the only means of access to certain places so isolated that they certainly deserve a visit. Explore some of these levadas to discover the soul of the island, away from the beaten track.

These magnificent walks give a glimpse of the breathtaking landscapes in a perfect encounter with nature. From the deep blue of the sea to the green of the high mountains, the excitement of going from sea level to 1862 metres is guaranteed!

Between the levadas and the footpaths you can enjoy the best panoramas that the exuberant nature of Madeira provides. A real tonic for the routine of everyday life!
---