Miguel Januário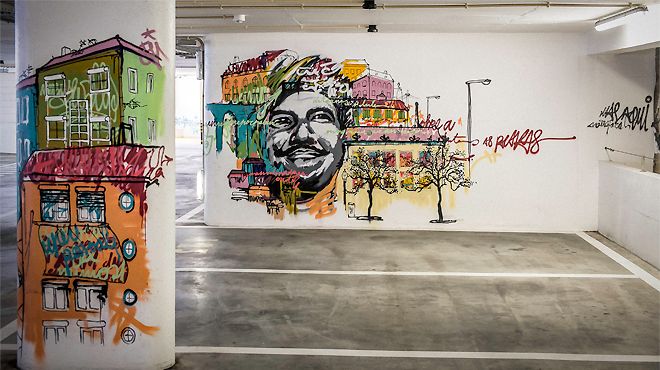 Miguel Januário
Place: Mercado do Chão do Loureiro

In the Baixa district of Lisbon, anyone who uses a lift to get to the Castelo de Sâo Jorge (St. George's Castle) is bound to pass the former Chão do Loureiro market. The building, as well as housing one of the lifts that help people up the hill to the castle, a supermarket and a café/restaurant at the top, has had several floors converted into parking facilities which also serve as large galleries for urban art in the city. Among the various pieces on show, one of them created by Miguel Januário depicts the buildings typical of these historical neighbourhoods, and highlights some of the iconic aspects of Lisbon, such as the Águas Livres Aqueduct.

Miguel Januário was born in 1981. He graduated in Communication Design from FBAUP, specialising in graffiti and street art.

He considers himself more or less an activist artist, this being his most visible side, and it is through this identity that he interacts with the urban landscape.
Contacts