Museu do Azeite - Bobadela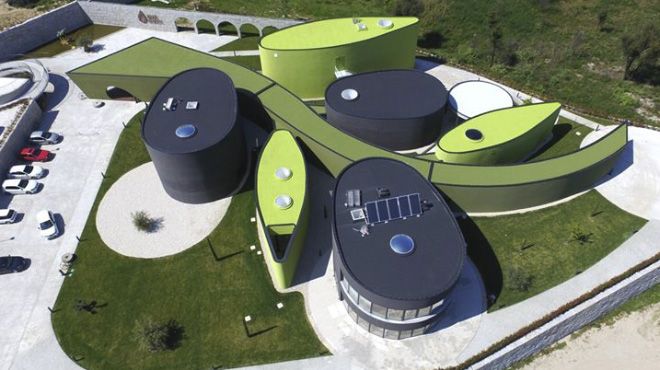 Museu do Azeite - Bobadela
António Manuel Dias is an entrepreneur, self-taught, who started exploration in the olive sector in 1986, being the owner of Sociedade de Azeite Destilaria Dias Lda. In the course this activity, he collected over the years a collection of hundreds of pieces on knowledge and technologies associated with olive oil.
The Olive Oil Museum recreates historical contexts that highlight the machines and processes created over the centuries by man for the extraction of olive oil, a precious vegetable oil, even sacred, that in its multiple dimensions - food, lighting, medicine, hygiene - if became one of the most important agricultural products in the country, with a definitive role in the economy of each historical period.
The Olive Oil Museum intends, therefore, to combine the historical and patrimonial valorization with the tourist fruition, creating a space for safeguarding the cultural, industrial and intangible heritage, as well as for the dissemination of olive oil production technologies. Its mission is the preservation of knowledge and secular pieces specific to our identity.
In addition to the exhibition space, the Olive Oil Museum also houses the Bar and Restaurant "Olea", an auditorium, souvenir shop and spaces designed for the youngest with playful and educational activities.

Contacts
Address:
Travessa dos Vales, n.º 7
3405-008 Bobadela
Coimbra
Telephone:
+351 238 603 095
Guided Tours
Restaurant
Cafeteria
Shops
Tuesday - Sunday:10 a.m.-6 p.m.
Disabled access
Reserved parking spaces
Accessible route to the entrance:
Accessible entrance:
Accessible circulation inside:
Accessible areas/services:
Shop
Bar/Café
Toilets
Patio
Auditorium
Accessible information:
Key
Interative and audiovisual presentations
Items for tactile exploration
Care skills:
Visual impairment
Hearing impairment
Motor disability
Mental disability
Support products/services available:
Visual impairment
Hearing impairment
Motor disability
Mental disability
Restaurant: 12 a.m.- 2:30 p.m. | 7:30 p.m. -10 p.m.
---