Parque Natural do Sudoeste Alentejano e Costa Vicentina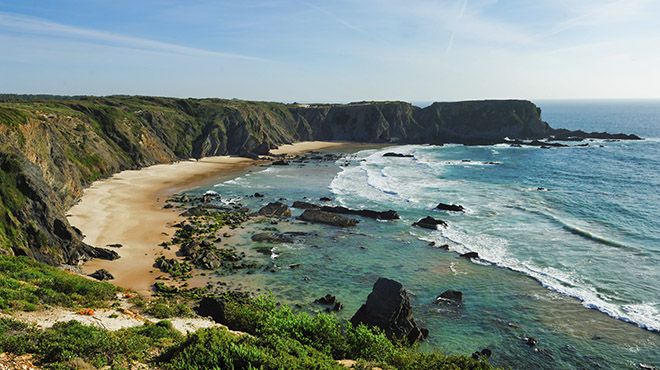 Parque Natural do Sudoeste Alentejano e Costa Vicentina
The South West Alentejo and Vicentine Coast Natural Park is the finest preserved stretch of European coastline, covering over 100 km, from Porto Covo in the Alentejo, to Burgau in the Algarve. The Park includes various unique species of animal and plant life, and is visited by many zoologists and botanists from all parts of the world.

The landscape is marked by steep cliffs, represented in the Park's logo, that have been given various forms and colouring by centuries of erosion.

Many bird species can be seen, such as rare fishing eagles. The rarest species is the white stork, given that this is the only place in the world where they build their nests in the seashore rocks. Another rarity is the otter, since this is the only place in Portugal and one of the last places in Europe where it is possible to find otters in a marine habitat. Plant life includes the largest number of priority species in Portugal, including unique indigenous species such as Biscutella vicentina or Plantago Almogravensis.

The beaches, are highly popular amongst surfers, and are the finest in the country. There is a tremendous variety of beaches, including long stretches of sand and small beaches nestled between the cliffs and rocks. The long list includes beaches such as Porto Covo, Malhão, Vila Nova de Milfontes, Almograve, Monte Clérigo, Arrifana and Praia do Amado. If you have the energy and desire to stray from the beaten track, albeit with difficult access, it's possible to discover many other beaches that have been preserved in a virtually unspoilt state.

In the extreme South Western section of the Park make sure to visit the lighthouse in the Cape of São Vicente after whom this stretch of coastline has been named and the nearby Sagres promontory, that housed the famous nautical school founded by the Infante D. Henrique in the 15th century.
Contacts
Head-office:
Rua Serpa Pinto, 32 - 7630-174 ODEMIRA
Tel.: +351 283 322 735


Signposted routes
Park area
: 75.000 ha.
Altitude
: Máx - 156m; min - 0m; Profundidade máx - 50m
---