Santuário da Senhora da Agonia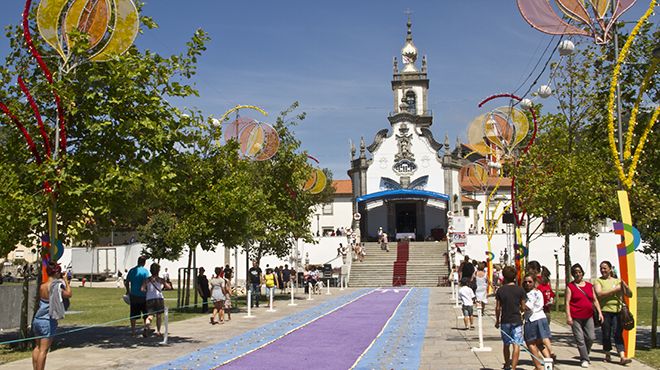 Santuário da Senhora da Agonia
Santuário da Senhora da Agonia (Shrine of Our Lady of Agony)
A Marian devotion that dates back to the 18th century

The Feast of Senhora da Agonia is perhaps the most famous pilgrimage in the region. It is celebrated over the weekend after 15 August (day of the Solemnity of the Assumption of the Virgin), and usually includes ethnographic parades, processions on land and processions on the River Lima with decorated boats. The streets along which the religious procession passes carrying the image of the Virgin are decorated with carpets of flowers.

The cult devoted to Senhora da Agonia dates back to the 18th century. It is associated with the devotion of the people engaged in fishing, who gave thanks or celebrated the graces received in times of trouble during storms and shipwrecks.

Earlier, in 1674, a chapel dedicated to the Good Jesus of the Holy Sepulchre of Calvary had been built on the site of the present shrine. It was already dedicated to the Marian devotion by the early 18th century, however, and referred to in 1706 as a chapel of Our Lady of Solitude. In 1744 it was known by today's name of Our Lady of Agony. In the second half of that century the original chapel was expanded and gave rise to this church, which was blessed in 1759. From 1783 a Solemn Mass was celebrated on August 20 every year. This date would become a municipal holiday and was to be the origin of the pilgrimage.

During the 19th century, the building underwent several interventions and extensions, including the construction of the central staircase that we see today. In the interior, the nave features an octagonal floor plan, with the high altar in its leading line. The altarpieces and the pulpit are decorated with the so-called Braga talha gorda woodcarving. The pulpit rostrum represents the scene of Calvary, with the image of Our Lady of Agony on top. Several oil paintings with portraits of evangelists and scenes from the Passion of Christ by the Italian painter Pascoal Parente can be admired, as well as an eighteenth-century organ. The oldest ex-voto bears the date 1733.

The annexes of the church contain the home of the chaplain, located above the sacristy, and the Consistory Hall, where several portraits of benefactors are on display. The rear tower, erected in 1868, has remained displaced from the body of the building so as not to impede the pilgrims on their procession round it.

The highlights of the Senhora da Agonia pilgrimage, which takes so many visitors to Viana do Castelo, are the ethnographic procession, the gigantones (giants) and cabeçudos (big heads) parade, and finally the costume festival.
Contacts
Address:
Rua de Monserrate / Campo da Agonia
4900-354 Viana do Castelo
Telephone:
+351 258 822 508 / 258 824 067
8.00 am.-12 pm. - 1 pm.-5 pm.
Accessible route to the entrance:
Accessible circulation inside:
---
---