Sentido Galosol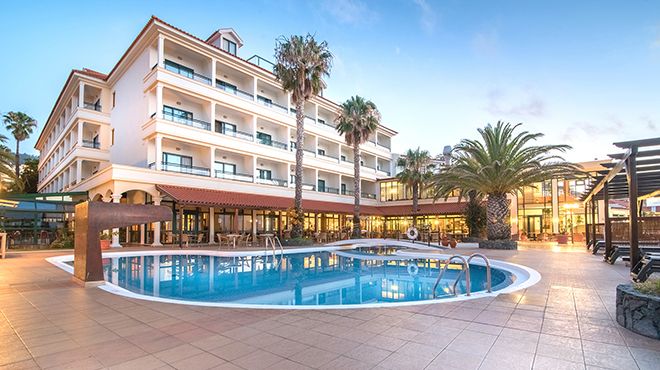 Sentido Galosol
Type of accommodation
Hotel accommodation
Category:
Hotel
Classification:
****
Galosol Buildings are family friendly areas that combine sports and wellness. We offer spacious double rooms w ith extra bed option, interconnected rooms that offer two rooms and two bathrooms and master suites with 4+ people capacity.
Contacts
Address:
Rua D. Francisco Santana
9125-031 Caniço
Telephone:
+351 291 930 930
Gay friendly
Internet Access
Air conditioning
Restaurant
Bar
Shops
Hairdresser
Laundry service
Gymnasium
Squash
Jacuzzi
Sauna
SPA
Sun beds
Swimming-pool
Garden
Baby Sitting
Smoke free
Reserved area for non-smokers
Reserved area for smokers
Number of beds
: 248
Number of rooms
: 117
Number of suites
: 7
Number of detached houses
: 1
Number of apartments
: 2
Target price
: $$$ (60€ - 90€)
Internet access in room
Air conditioning in room
Steel safe in room
Mini-bar in room
Hair dryer in room
Heating in room
Telephone in room
Television in room
Breakfast timetable
: 7:30 am - 10:30 am
Room service timetable
: 24 h
Transfer service
Buses
Outdoor parking
Covered garage
Disabled access
Reserved parking spaces
Accessible route to the entrance:
Accessible entrance:
Reception area suitable for people with special needs
Accessible circulation inside:
Accessible areas/services:
Bedrooms
Meeting rooms
Restaurant
Bar/Café
Patio
Swimming pool
Gym
Spa
Care skills:
Visual impairment
Hearing impairment
Motor disability
Mental disability
Support products/services available:
Visual impairment
Hearing impairment
Motor disability
Mental disability
AWARDS & CERTIFICATIONS - · Sustainability TUI Umwelt; Green Key; Travelife; Distintivo Qualidade Ambiental DRT; Programa HOSPES - We Care; WTA - Portugal's Green Hotel · On-line Trip Advisor; Holiday Check; Booking · Tour Operators Schauinsland; Fitreisen · Others ECARF* (Allergy-friendly Hotel); Tauche
GUEST RELATIONS / ENTERTAINMENT- · Weekly program; Live Music; Folclore; Diverse Presentations; Workshops · Sports Events: New Years Plunge; Cristo Rei Trail; Fitness Weekend; Squash Tournament; Open Water Swimming and much more · Gala Dinners: Christmas; New Year's Eve; Easter · Local Tours · Taylor made programs for group. Yoga room and accessories
Registration No.
: 3122
---