Surf Sketch Tour - Suhita Shirodkar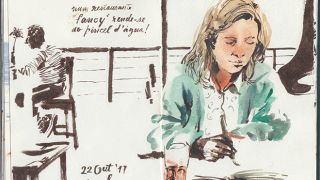 From her memories of a visit made 16 years ago and the fact that her father is from Goa, with strong ties to Portuguese culture, whenever Suhita Shirodkar thought about Portugal she had an image of light and colourful houses, cobbled streets, long afternoons and port wine. By adding surfing, she then thought of warmth, beach and calm blue water, though she had always been curious about the beaches with huge waves, imagining a coastline with old towns, forts near the shoreline and vegetation featuring agave plants.

The big surprise was to have found a wide variety of surf spots and too many beautiful beaches for even the quick sketches to capture. She was inspired while working with João, with whom she learned a lot about surfing. The sandy cliffs of Praia da Galé and the surfers at Nazaré are images that will be forever etched in her memory.

In addition to the surfing she was enchanted by the food and drink, the work of the fishermen, the small fishing boats and drawing the sunsets at the end of the day.

"I couldn't end without saying that what stood out most was a sense of warmth and openness. Everywhere I went, people reached out, even across language barriers ( I speak no Portuguese) and expressed a sense of welcome. I felt at home. (…)
A longer trip to Portugal, to explore and sketch more aspects of the country, is what I am going to have to find a way to do! "
Praia de Carcavelos, Forte de São Julião da Barra
The first drawing from Surf Sketch Portugal. João grew up on this beach. A great place to start the trip...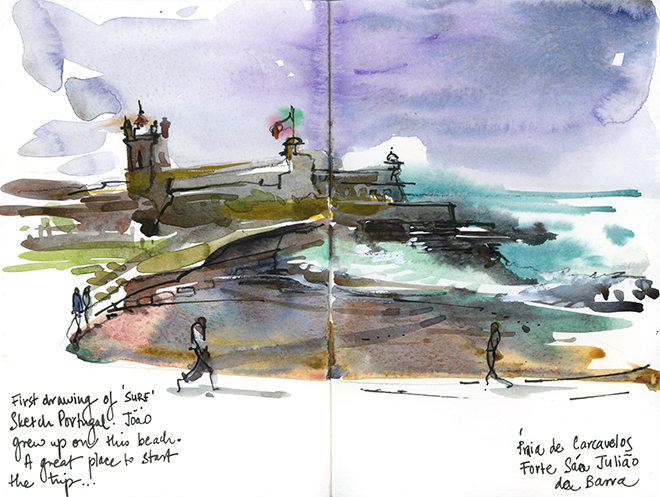 Praia do Sul, Ericeira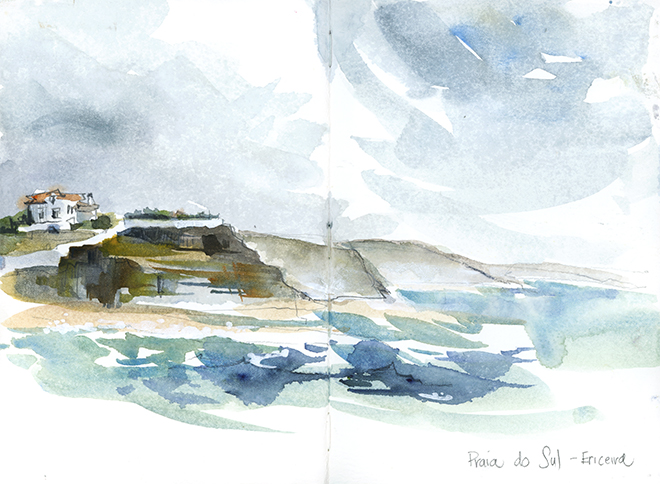 Grilled octopus with onions and olive oil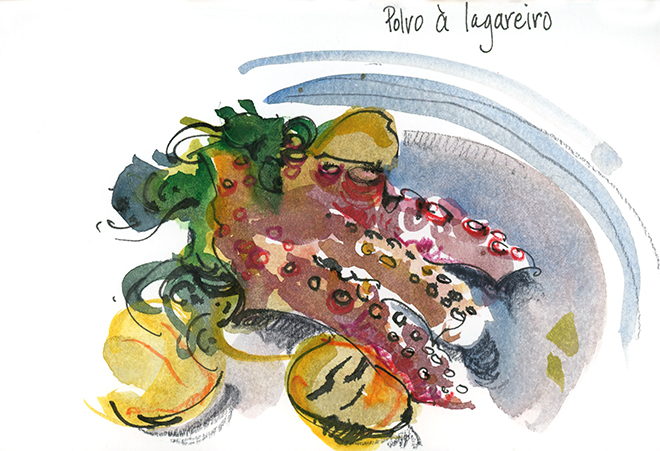 Praia dos Coxos, pescadores e o mar / Fishermen & the sea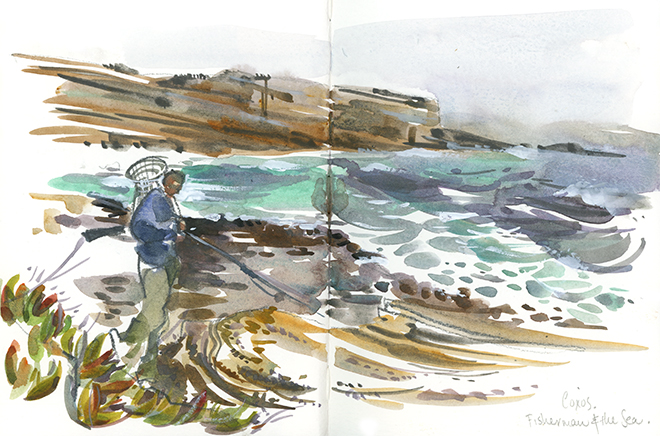 Praia de Santa Cruz, Torres Vedras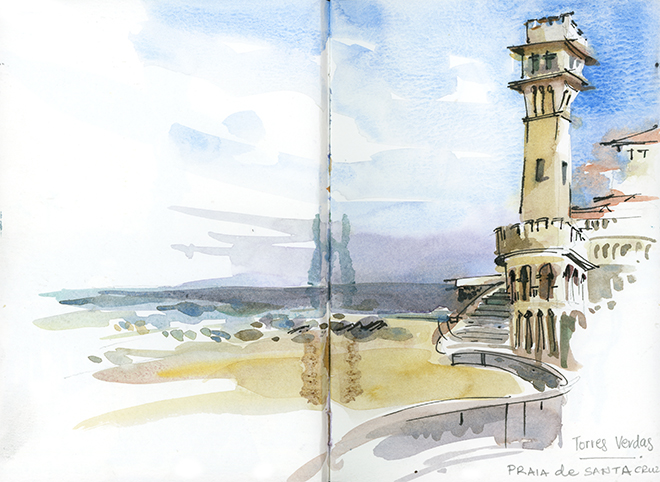 Praia Supertubos, Peniche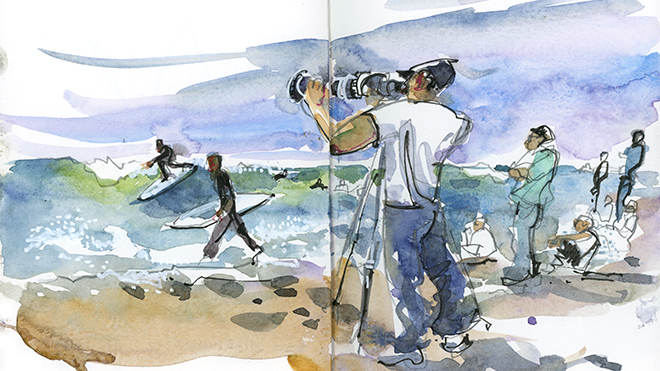 Peniche – fishing boats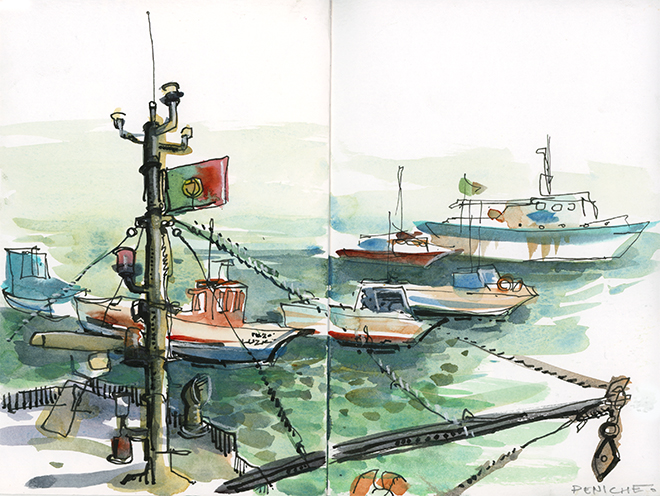 Nazaré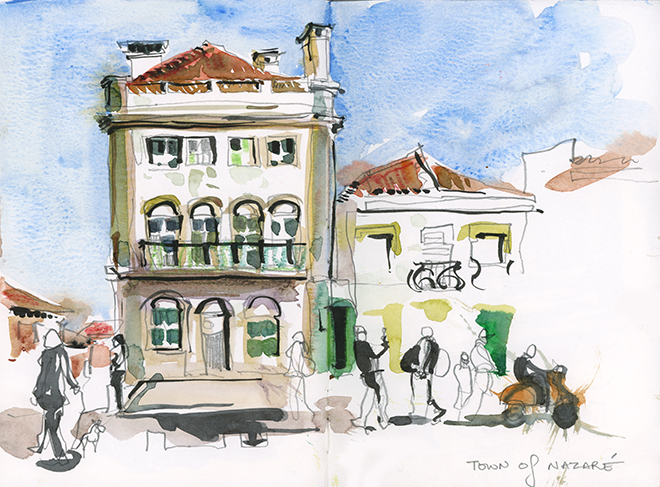 Fisherman, Nazaré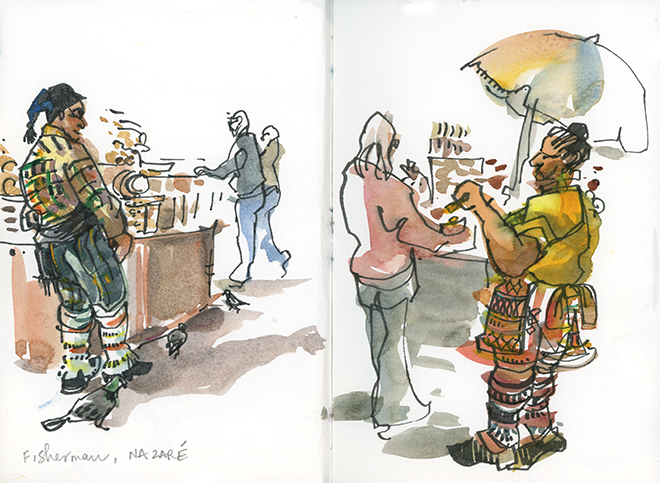 Fishing boats, Nazaré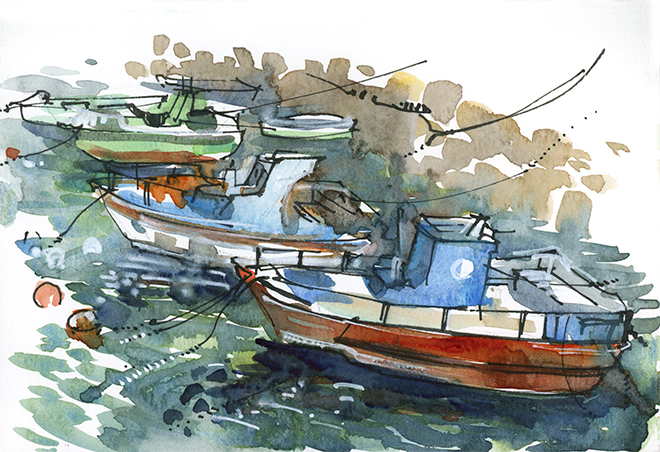 Alcácer do Sal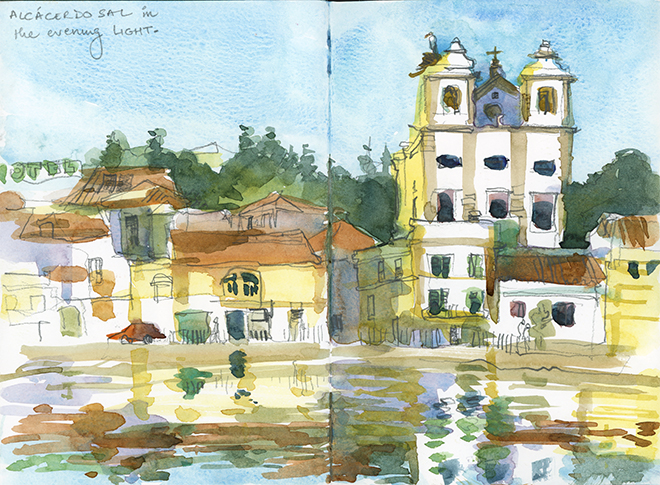 Praia de São Torpes, Sines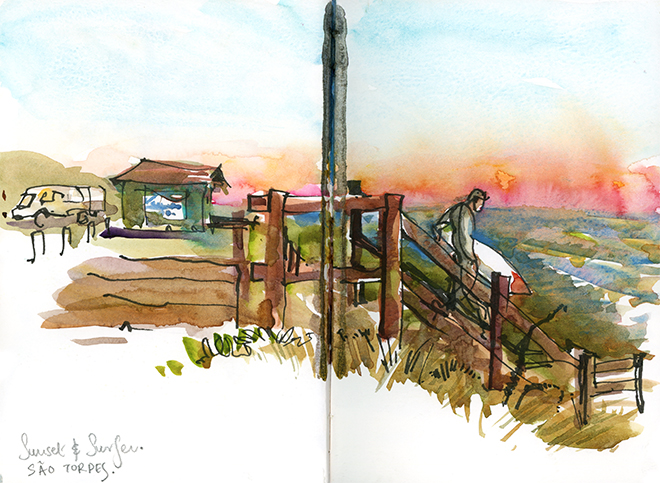 Vila Nova de Milfontes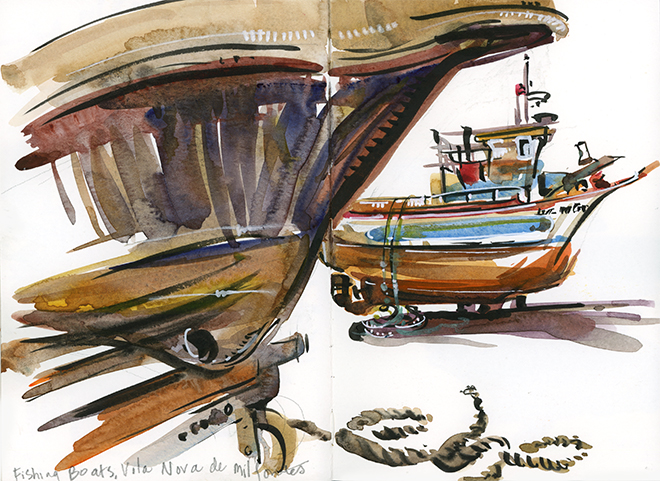 Praia da Costa de Caparica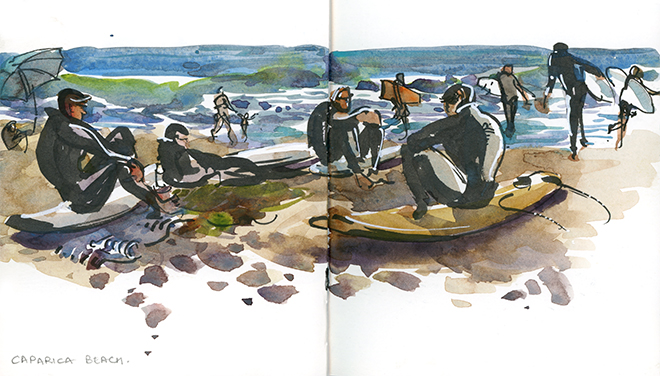 Praia da Costa da Caparica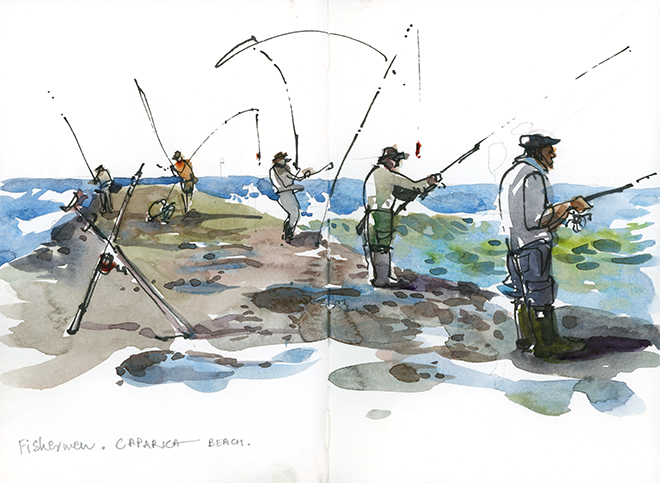 LISBOA
Chestnut sellers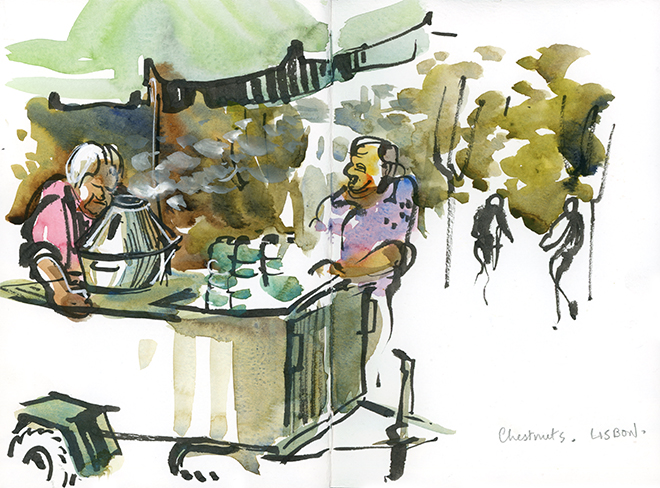 Tram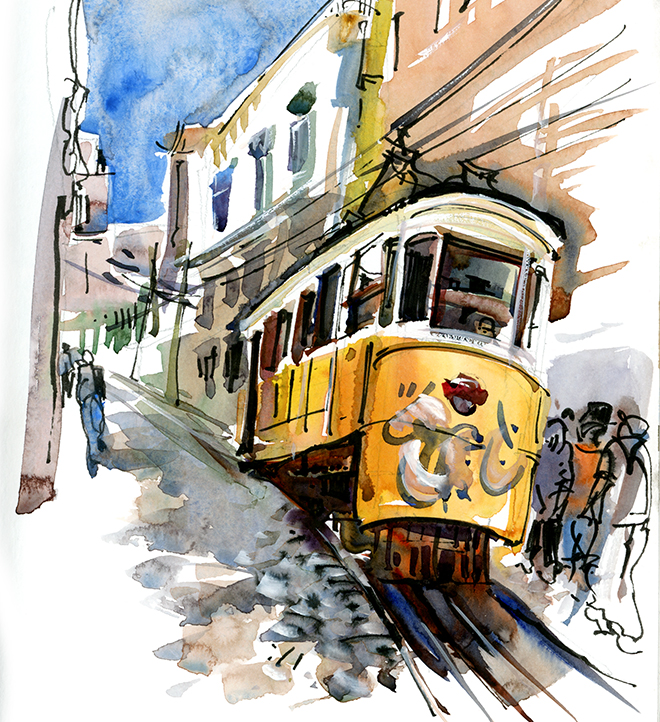 ---
Suhita Shirodkar lives in São José, in California, where she works as a graphic designer and illustrator. Of Goan origin, she now lives in the United States though she feels at home in both countries. She loves it that the sketches are a tool for sharing the wonderful places she visits with people from all over the world.

As a correspondent for the Urban Sketchers, she has taught in the group's Symposiums in Brazil, Singapore, Manchester and Chicago, as well as in many local workshops.
---