Surfing
Stretching for more than 850km, the Portuguese coast is a gigantic surfing beach. No other coastal strip in the world can offer such a great number of spots in such a short distance, so in Portugal you can always rely on the waves.




Tempered by tailwinds and a lot of sun all year round, these perfect waves, even magical at times, provide a unique experience for practitioners of various sports. Surfing, bodyboarding, windsurfing, kitesurfing and paddlesurfing are just some of the sports for enjoying the Atlantic waves which take the adrenalin levels beyond anything imaginable.

From the giant waves of Praia do Norte, in Nazaré, sought after by the most daring, to the steady, perfect waves of Carcavelos, Ericeira and Peniche, there are many choice spots for surfers. And they're not only around Lisbon. The variety is huge, both in the north, at Figueira da Foz, Espinho and Viana do Castelo, and in the south, on the Alentejo coast and the Sagres area, and even in the Azores and Madeira.

As for bodyboarders, they have in Praia Grande, Sintra, a benchmark not to be missed. This spot is part of every itinerary and hosts an annual event in the world bodyboarding tournament; however, the northern coast and the western Algarve coast have also become popular with bodyboarders.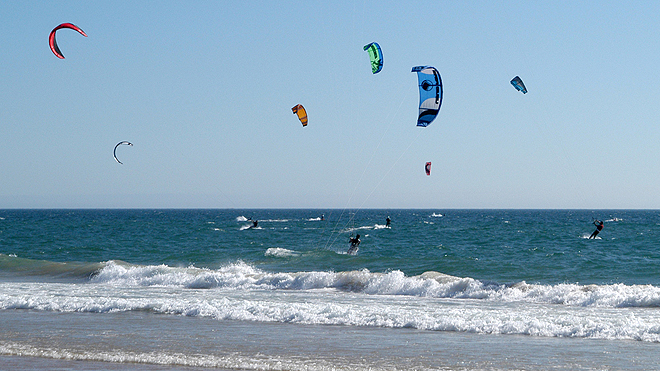 Guincho is the Portuguese Mecca for windsurfing and has already welcomed the world's best windsurfers. The wind and the waves guarantee a good show for those on the beach and the pleasure of those in the water. But kitesurfing has also been gathering a growing following, not only here but on other beaches as well, such as Carcavelos, Costa da Caparica and further north in the Aveiro and Viana do Castelo areas.

But there are many other activities to enable you to make the most of the conditions offered by the sea, the rivers and the lakes. From paddlesurfing in the open sea or in the calmer waters of sheltered coves and lagoons, to water skiing and parasailing, there's a wide range of options for having a good time. You'll be really spoilt for choice…
---