Vhils / Pixel Pancho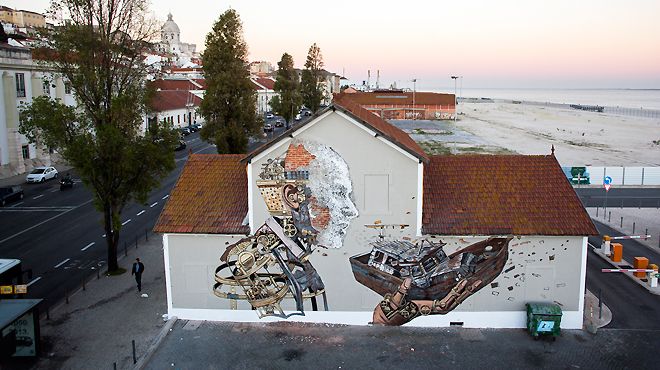 Vhils / Pixel Pancho
Location: Jardim do Tabaco, Av. Infante D. Henrique, Lisboa

Alexandre Farto, who also signs as Vhils, has developed a unique visual language based on the aesthetic of vandalism derived from his background in illegal graffiti. He removes the outer layers of walls and other surfaces with tools and unconventional techniques, creating symbolic reflections on identity, urban lifestyles, the passage of time and the interdependence between people and their environment. His innovative gouging technique has been critically acclaimed.

Since 2005 he has been presenting his work around the world at solo and group exhibitions, events, institutions, various site-specific interventions and projects. He has taken part in some of the most prestigious contemporary urban art projects. Vhils is currently working with the Vera Cortes Art Agency (Portugal), Lazarides Gallery (UK), and Magda Danysz Gallery (France and China). His work can be found in many public and private collections in various countries.

Pixel Pancho is an Italian street artist, born in Turin. He specialises in large murals and is considered one of the best artists in his field. He works constantly with earth tones to convey a feeling of age.

Pixel creates robotic creatures inspired by different environments: beaches, forests, the sci-fi universe. The artist uses a wide variety of surfaces, but tiles and wall painting are the most significant.
Contacts
---