Café Alentejo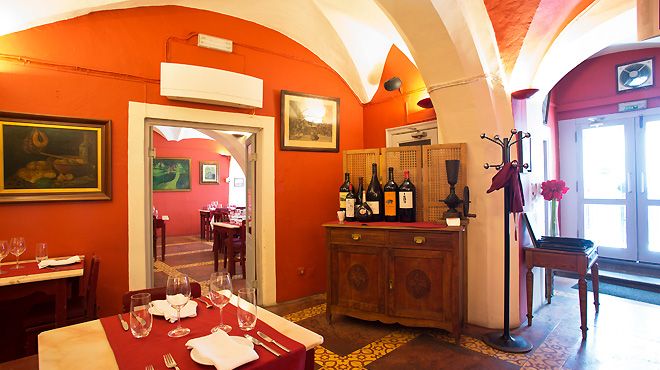 Café Alentejo
The location and history make the Café Alentejo a reference for Évora as it is installed in a 16th century building that is part of the Estaus Palace beside Praça do Giraldo in the centre of the city, and as it occupies the space that since 1900 has successively been a tavern, a humble eating-house and restaurant. It has preserved the counter and the typical tables of the former taverns with marble tops, to which is added the elegance of the white tablecloths with bordeaux red table runners on top. But the most characteristic and distinctive elements of the restaurant are the columns, arches and the vaulted ceiling, as well as the alternating reds and whites. It is an eating-house with all the modern comforts. It has a cosmopolitan and relaxed atmosphere.
The food is traditional with a strong regional component, examples of which in terms of starters are: Alentejo cheeses and sausages, green asparagus sautéed in olive oil and scrambled eggs with farinheira; in terms of soups there are Alentejo açordawith egg, dogfish soup and grouper soup with riverside mint; in terms of main dishes we have bacalhau au gratin with coriander, oxtail stewed in white wine and duck rice toasted in the oven that are classics in the Café Alentejo, and asparagus migas with carne de alguidar; in terms of desserts we have conventual and traditional desserts. The menu devotes an important chapter to steaks and another to younger clients' favourite dishes, known as "junior" dishes and there is a special tourist menu. There are many varied suggestions of snacks and meals, both light and not so light. A selection of mainly Alentejo wines with good wine service stored at the recommended temperature and served in the right glasses.
Contacts
Address:
Rua do Raimundo, nº 5, 7000-661 Évora
Telephone:
+351 266 706 296
Capacity
: 60 pessoas
Reserved area for non-smokers
Reserved area for smokers
12.30pm – 3.00pm; 7.30pm – 11.00pm
Closing Day(s): Open every day
Target price
: $$ (10€ - 20€)
Credit cards accepted
Emblematic dish
Asparagus migas with carne de alguidar. Migas with exemplary flavours and textures, seasoned pork and appropriately fried.
Added Value
A private area, next to the dining room, is particularly handsome with a vaulted ceiling in stone and brickwork where sometimes there are wine tasting sessions.
---