Lisboa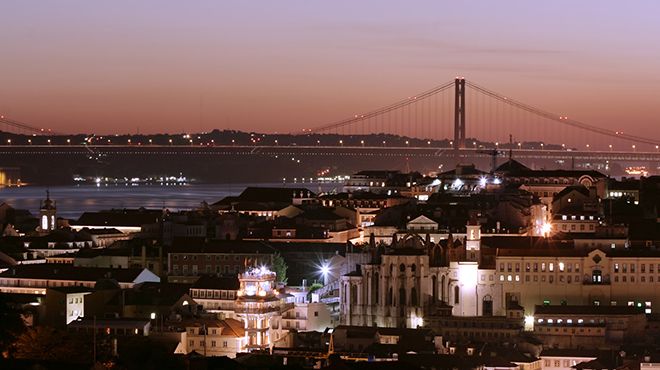 Lisboa
On the right bank of the broad Tagus river estuary, the capital of Portugal graciously reclines over rolling hills. This is a spectacular geographical location and does much to explain the cosmopolitan history of the city. Its exceptional natural light, which has long inspired writers, photographs and filmmakers, the brightly coloured buildings straddling the slopes, the striking ochre of the roofs, the tiling on so many facades and the narrow twisting alleys of the medieval districts bestow Lisbon with the peculiar atmosphere of a city perched somewhere between the European north and the Mediterranean south.

Throughout millennia, the superb natural harbour of the Tagus was used by traders and seafarers. Lisbon's long history begins under the Phoenicians as Alis-Ubbo, before becoming the Roman settlement of Felicita Julia Olisipo in the second century.

With the arrival of the Moors from the 8th century, it was renamed Aschbouna. The city fell to the Portuguese in 1147, when conquered by the first king of Portugal, Afonso Henriques. It became the national capital in 1255.

Wandering its distinctive neighbourhoods, taking the tram through historic neighbourhoods, riding the century-old lifts up and down the steep slopes, taking a boat ride on the Tagus, or even jumping on the metro, itself a veritable underground museum of contemporary Portuguese art, there are so many means to discover the great diversity and cultural depth that Lisbon has to offer.

To the west, close to the mouth of the Tagus, visit Belém with its gardens and monuments to the Lisbon of the Voyages of Discovery now declared UNESCO World Heritage.

Much was rebuilt after the 1755 earthquake. A regular, symmetrical plan was established for the "Baixa (Downtown)" opening it up to both the light and the river. There, you will come across the traditional commerce. There is also the seductive appeal of the Chiado; a neighbourhood evoking the bourgeois tastes of 19th century Lisbon. To the east, the Parque das Nações (Park of Nations) concentrates a huge range of leisure facilities and features the Oceanarium.

By night, the traditional neighbourhoods fall under the spell of Fado, the melancholic style of Portuguese folk music, while a younger crowd flocks to lively, stylish bars of the Docas, down by the river, or the Bairro Alto, adjoining the Chiado.
---