Accessibility on public transport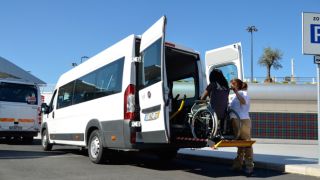 Airports
All Portuguese airports have specially adapted toilet facilities and transfers for people with special requirements. When required, passengers can also access MyWay, a personalised assistance service for passengers with reduced mobility. This service includes mechanised mobility facilitators, escalators and travelators, lifts, appropriate signage and guidance, as well as staff trained for this purpose, guaranteeing full assistance.
Passengers must request the MyWay service with their airline or travel agent when booking their ticket or at least 48 hours before departure. This information will be conveyed by the airline to the airport involved to ensure that they receive assistance.
Private vehicles with a disability sticker have parking available at all airport carparks. These parking bays, located close to the parking exits are clearly identified.
Passengers are authorised to use guide dogs in airports, including the departure terminals. However, passengers must contact their airline or travel agent to confirm if guide dogs are allowed on the flight.
For more information, visit www.ana.pt

Trains
The Portuguese Train Service, the CP-Comboios de Portugal, offers a centralised Integrated Mobility Service (SIM - Serviço Integrado de Mobilidade), accessed by telephone (+351) 707 210 746 (707 210 SIM), which is available 24 hours a day for 365 days a year, for both information and services.
This service will enable passengers with special requirements to get information on accessibility on trains and at stations, assistance for embarking, during the journey and disembarking, among other services.
For more information, go to www.cp.pt


Taxis
There are taxis specially adapted to the needs of disabled passengers with reduced mobility in the main cities of the country. New taxis, adapted to transport people with reduced mobility, are equiped with boarding platforms, specially adapted safety belts, safety devices for wheelchairs, and doors with a larger door opening angle. These taxis are available at taxi ranks at airports and/or by requesting this service with the taxi companies.
For more information, go to www.antral.pt


Urban Public Transport

To obtain information on urban transport in various towns, please click on the link 'Informações úteis' (Useful Information) on Accessible Tours in each city - Lisbon, Porto, Faro.
---