Golf Sketch Tour - Luís Frasco
For Luis Frasco Sketch Tour Portugal was an excellent opportunity to convey what Portugal has that is special, unique and genuine. Enjoying presenting Portugal and welcoming a foreign sketcher was a combination that was perfectly in tune with the sketcher community's spirit of sharing and interest in getting to know other drawing techniques, and visiting new places.

If we add to this the possibility of contact with an environment entirely new to me - golf - and living within these idyllic, but such varied surroundings, which are our "greens", I can say that it is "an opportunity of a lifetime!"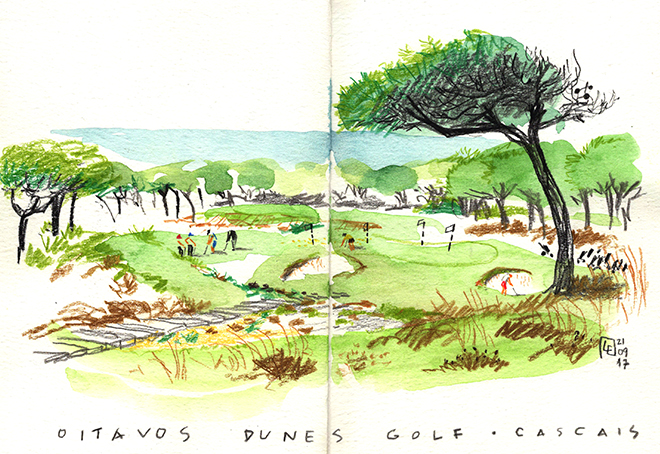 ---
Luís Frasco
He was born in Lisbon and grew up in Oeiras until he was 27 when he left to go live in Alfragide/Carnaxide, while working in Lisbon.
He was drawing at a very early age, but exchanging the dream of cartoon strips for training in architecture meant that drawing was shifted to a utilitarian plane, as a tool in creating an architectural design. After 30 years, he only recently resumed the regular practice and regained the pleasure in drawing, doing several illustrations, cartoons and, more often, non-commissioned work in sketchbooks (urban sketching).
Sharing his drawings in the blog 'A ver com as mãos' (Seeing with the hands) in some exhibitions and books, included in groups of urban sketchers. He is member of the board of Urban Sketchers Portugal, to whose blog he has been contributing since 2013.
When he leaves the day's routine he takes the sketch book. And so he manages to keep the moments that previously used to fade away. By drawing them in a non-commissioned sketchbook. He draws for himself, without any goal, and that is liberating. He enjoys exploring different materials, he likes discovering their potential and the diversity that makes it possible to browse through the sketchbook.
---