Igreja de Nossa Senhora da Oliveira - Guimarães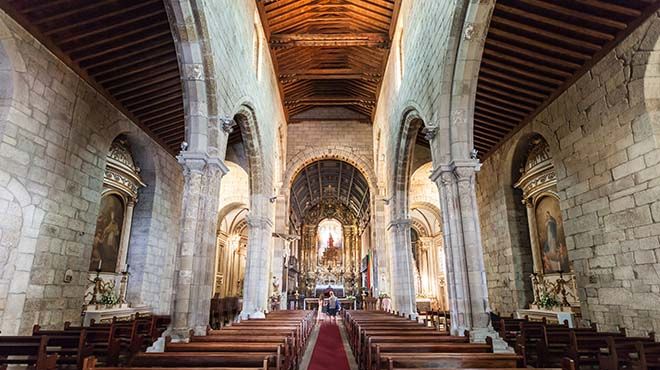 Igreja de Nossa Senhora da Oliveira - Guimarães
A place of Marian worship since the 10th century.

The beginnings of the Insigne e Real Colegiada de Nossa Senhora da Oliveira date back to the monastery dedicated to the Saviour of the World, the Blessed Virgin Mary and the Holy Apostles, which was founded at this location by the Countess Mumadona Dias in the year 949. For the protection of the monastery a fortification was erected that precedes the present castle of Guimarães. Little remains of the original construction - whose iconography is presumed to have been typically Benedictine (around Good and Evil) - although a Romanesque chancel dating from the second half of the twelfth century and originating from the main church portal is preserved in the Alberto Sampaio Museum.

The arches of the cloister and the portal of the Chapter Hall, a work of excellent constructive technique, are testimony to Portugal's finest Romanesque-Mudéjar ensemble.

The invocation of Our Lady of Oliveira arose after 1342, with the greening of an olive tree in the border square, although the area was already an important pilgrimage hub to venerate an image of Santa Maria - the same one that was worshipped by D. João I on the eve of the Battle of Aljubarrota. Having won the battle, and in fulfilment of the King's promise, the building was remodelled. Work continued until at least 1413, becoming a landmark of Gothic architecture in northern Portugal. The large window in the upper half of the main facade is integrally dedicated to the genealogy of the Virgin. In the altarpiece of the main chapel is an ancient image of Our Lady of Oliveira.

The building also includes Manueline elements, especially the bell tower, which was rebuilt by the Prior D. Diogo Pinheiro in 1513, and in which is the Burial Chapel of his parents. At the end of the 17th century, King Peter II ordered the main chapel to be enlarged, his coat of arms can be seen in the vault; from the same period is the 17th-century chancel with neoclassical backrests, another of the monument's highlights, along with the altarpiece of the High Altar (dating from the second half of the 18th century), the silver altar of the Chapel of the Blessed Sacrament, and the large baroque canvases, attributed to Pedro Alexandrino, that adorn the walls. The building underwent modifications in the 19th and 20th centuries.

In 1801, against the will of the population, the local council dug up an olive tree that had for years occupied the space in front of the church.
Contacts
Address:
Largo da Oliveira 
4800-438 Guimarães
Telephone:
+351 253 416 144 / 253 421 200
Monday to Saturday: 8.30am.-12.00 pm. / 3.30-7.30 pm;
Sunday: 9.00 am-1.00 pm. / 5 pm.-8 pm.
---
---