Igreja de Santa Maria do Castelo - Tavira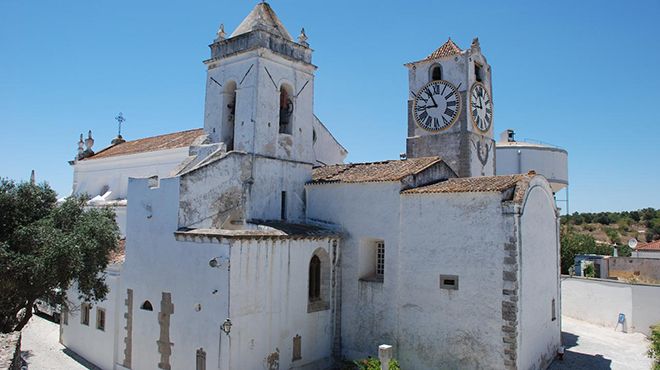 Igreja de Santa Maria do Castelo - Tavira
Marian worship from Gothic to Baroque.

The Church of Santa Maria is a 13th century building, likely built on the site of the old mosque by the city's conqueror, D. Paio Peres Correia, master of the Order of Santiago, who is buried in the main chapel along with seven Christian knights killed in battle in 1242.

Originally built to Gothic style, it was severely damaged by the 1755 earthquake and ordered to be rebuilt by the Bishop of the Algarve, D. Francisco Gomes de Avelar, who commissioned the project from Italian Francisco Xavier Fabri. Of the Gothic elements preserved on the facade the more notable are the portal, decorated with ornate floral lintels, the ogive window and a small rose window. The clock tower also belongs to the original construction, although it contains decorative elements added later on. Gothic traits are also seen in the arches and the vault of the Senhor dos Passos chapel, which itself is Manueline.

In the interior, several artistic works stand out. The sculpture of the Virgin Mary is worshipped in the Main Chapel as the Lady of the Castle. In the Chapel of the Blessed Sacrament, dating from 1748, the walls are covered with panels of tiles depicting the Last Supper and the Washing of the Feet. In the Chapel of Souls, a gilded altarpiece showcases a work of high relief religious iconography, dating from the 17th century. Also in the sacristy are panels of 18th century tiles, decorated with baskets of fruit and flower pots, next to a 1645 basin.

Among sacred treasure, comprising items of gold and ecclesiastic garments, it is worth noting a precious missal bookshelf from Japan and dating from the 16th / 17th centuries, as well as the 18th century baroque Custody.
Contacts
Address:
Calçada de Santa Maria
Alto de Santa Maria
8800-407 Tavira
Telephone:
+351 281 326 286 / 931 327 872
Accessible route to the entrance:
Accessible circulation inside:
---
---