João Hasselberg | Idanha-a-Nova
João Hasselberg has a special connection to Idanha-a-Nova, region he discovered and explored during an artistic residence at the Centro Cultural Raiano (Raiano Cultural Centre). Music has accompanied him throughout his life: from the vast collection of records at his parents' house to the present day, where he performs all over the world.
"We are made of in tune and out of tune moments, which never cease to teach us to take advantage of the sounds that life gives us. Inside me I keep many places, where I have been leaving a little of myself but also taking a little from them, so that I will never forget and the bonds we formed and what we shared will never be forgotten. These are the places that make up my symphony, that are part of me."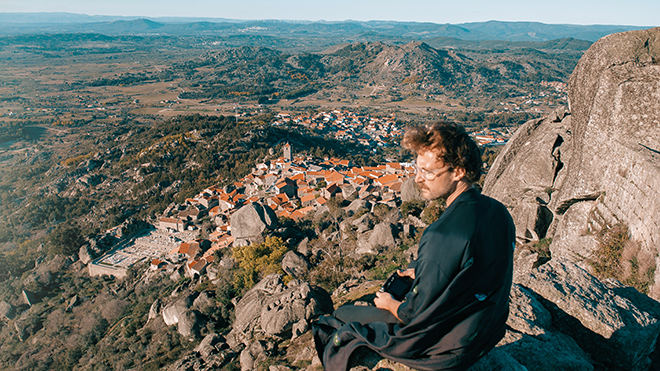 @_jessica_reis_
In Idanha there are several iconic places, such as the historical village of Monsanto, Penha Garcia, rich in prehistoric and Roman remains, and also the flowered village of Santa Margarida, with its granite-built houses. What tour we can't miss when we are in the region?

Fortunately, there is no lack of points of interest in this municipality, which I recommend to all those who pass through there, from the architecture of the village of Idanha-a-Velha, founded by the Romans in the 1st century B.C., to the trails through the beautiful Penha Garcia, with breath-taking views, like the one we can see from the Castelo Templário (Templar Castle), on top of a hillside. And of course, you can't miss the climb to the top of the Monsanto castle, with a glass (or two) of mead, and stand silently contemplating the horizon.

©David Cachopo/Gerador
Idanha-a-Nova is a municipality full of green spaces and paths to enjoy nature. What is for you the unmissable landscape in this area?

Without a doubt some of the most beautiful spaces are contemplated in the Rota dos Fósseis (Fossils Route), in Penha Garcia. It is part of UNESCO's World Geoparks Network, due to its richness in traces of how life was in that place more than 480 million years ago, which is fascinating. But, in fact, any tour you take in the region ends up being impactful.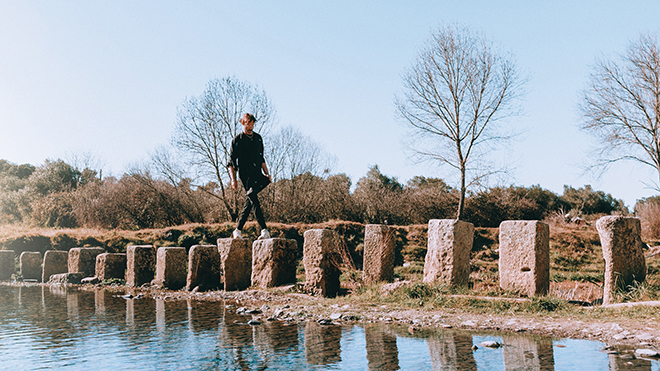 @_jessica_reis_
Idanha-a-Nova's gastronomic delicacies leave no one indifferent. In your opinion, which ones are a must try?

I'm not a fan of kid, but in Idanha-a-Nova the oven-roasted kid is unbelievable. This is one of those dishes where the recipe is passed from generation to generation. And it's amazing how, in the first bite, you can tell the whole story from the taste. I strongly recommend that, on a visit to the region, you dedicate one of your meals to this delicacy.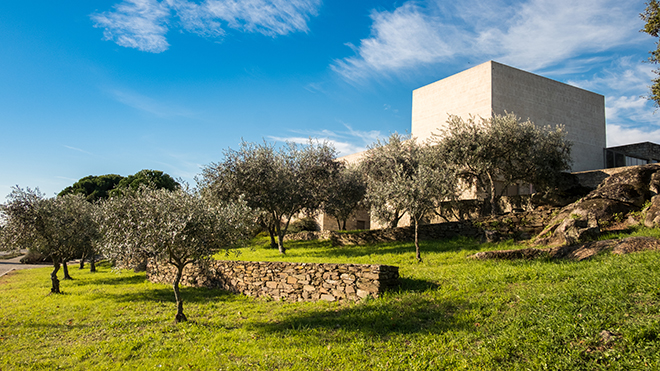 ©David Cachopo/Gerador
As part of the Municipality's strategy as Cidade Criativa da Música da UNESCO (UNESCO´s Creative City of Music programme), your artistic residency at Raiano Cultural Centre came out the record "The Great Square of Pegasus". How did Idanha inspire you?

Over the last 10 years I have been playing a lot at Idanha-a-Nova, especially in the context of the Creative City of Music programme. It was, in fact, because of that contact with the city that the opportunity arose to do the Residency at the Raiano Cultural Centre. The energy of this region is very fertile, for the silence and unfilled space that drives, in my case, creation. It also reminds me of Alentejo where I grew up. Being in a place that allows us to listen, where there is no city noise or euphoria, opens up a lot of space for other types of creativity.

And of that same experience, in a municipality as rich as Idanha-a-Nova, what memories do you bring with you?

Above all, an incredible willingness and love from all the people involved in the project. The musicians, the staff of the Raiano Cultural Centre and the locals who welcomed us with open arms, so warmly, and with whom I was lucky enough to cross paths with.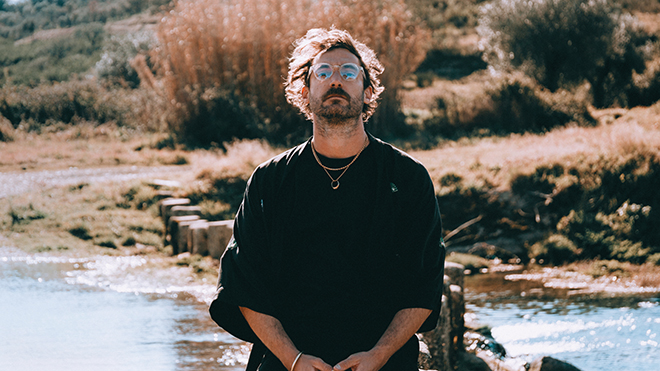 @_jessica_reis_
The photographer Jéssica Reis accompanied João Hasselberg on this journey through the Portuguese countryside, in particular Idanha-a-Nova.

"Viagens no Meu Interior" ("Travel to my Inner Self") is an initiative of Visitportugal and the communication platform Gerador. We invited Portuguese artists to express themselves about their inner selves, about the Portuguese countryside. We show them perhaps lesser-known regions, on a journey of discovery and sharing of places that they know better than anyone else and that have had a particular meaning in their lives.
---