Museu Nacional de História Natural e da Ciência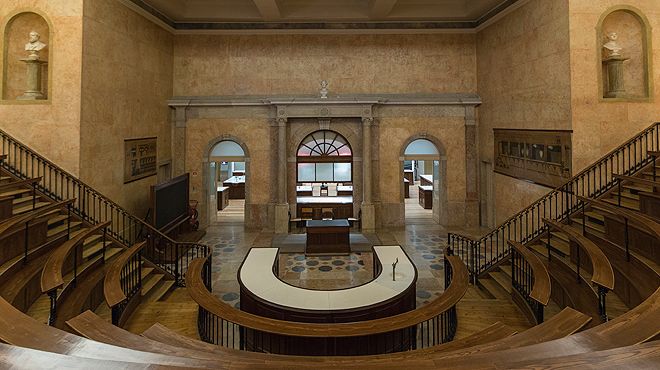 Museu Nacional de História Natural e da Ciência
The Museu Nacional de História Natural e da Ciência (MUHNAC), University of Lisbon, is a centre of education, science and culture in the heart of Lisbon.

Although its location hosts teaching institutions since the early 17th century, the Museum has its origins in the Royal Museum and Botanical Garden of Ajuda, created in the 18th century. MUHNAC is loaded with science and history. Among its highlights are the Botanical Garden, the Laboratorio Chimico and its beautiful amphitheatre, the Astronomical Observatory and the former Riding Hall of the Colégio dos Nobres. The Museum includes also the Lisbon Astrononomical Observatory, located in Tapada da Ajuda.

Apart from exhibitions, visitors can enjoy a diversified programme of activities aiming at stimulating curiosity and understanding about Nature and Science, as well as bringing the University of Lisbon closer to society.

Contacts
Address:
Rua da Escola Politécnica, 56-58
1250-102 Lisboa
Telephone:
+351 21 392 18 08
Tuesday-Friday: 10a.m.-5p.m.;
Saturday and sunday: 11a.m.-6p.m.;
Closed: Mondays and public holidays.
Disabled access
Accessible route to the entrance:
Accessible entrance:
Reception area suitable for people with special needs
Accessible circulation inside:
Accessible areas/services:
Care skills:
Visual impairment
Hearing impairment
Motor disability
Mental disability
---
---