A Romeirinha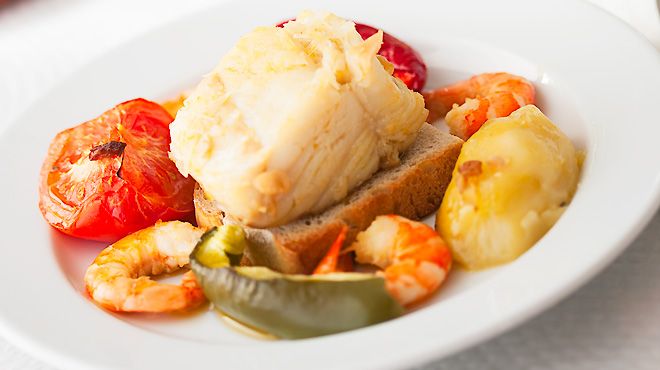 A Romeirinha
Traditional, informal and family-run is A Romeirinha, restaurant located on the ground floor of the building where the owners, Joaquina and Florival, live in this small village a few kilometres from Viana do Alentejo. With a small terrace at the entrance, the main room is large and bright, to which the typical Alentejo chairs give a touch of charm as the paintings produced by one of the couple's daughters secures its personality. It also serves as a café, especially sought out by the locals, given the fame of the sweets made by Joaquina and is therefore an excellent choice not only for a full meal but also for an afternoon snack.
Despite the apparent simplicity, the cuisine that is markedly regional and homemade has been acknowledged since 1997 and is based on the most genuine produce and tastes from the land. In a short but consistent menu, following the couvert consisting of bread, olives, paio sausage and Alentejo cheeses, there are the soups of the day, dogfish, tomato and açorda with bacalhau.
Some of the main dishes are seasonal or made to order in order to take advantage of the best in each season of the year, such as when it comes to meats: carne de porco à alentejana with clams, oven-roasted lamb, asparagus migas with meat made to an Alentejo recipe, eggs rolled in asparagus and linguiça sausage and oven-roasted pork tenderloin. Where fish is concerned, there is a selection of bacalhaus: à Braz, espiritual or com natas. The desserts are conventual and homemade: morgado, sericaia with Elvas Plums PDO, and toucinho do céu. A selection of Alentejo wines, with the exception of the vinho verde, naturally. Service efficient and friendly!
Contacts
Address:
Rua 10 de Outubro Lote 6, 7090-405 Aguiar
Telephone:
+351 266 791 347
Capacity
: 40 pessoas
Reserved area for non-smokers
Reserved area for smokers
11.30am – 10.00pm.
Weekends: open until 02.00am
Closing Day(s): Open every day
Target price
: $ (0€ - 10€)
Emblematic Dish
Asparagus migas with meat made to an Alentejo recipe during the right season, given the texture of the migas, as light and as succulent as possible, and the seasoning of the meats that Joaquina learnt from her mother and grandmother.
Added Value
The price-quality ratio, the quality of the raw materials and the feeling that we are lunching at home make of this restaurant an address to remember.
---