Sé Catedral do Funchal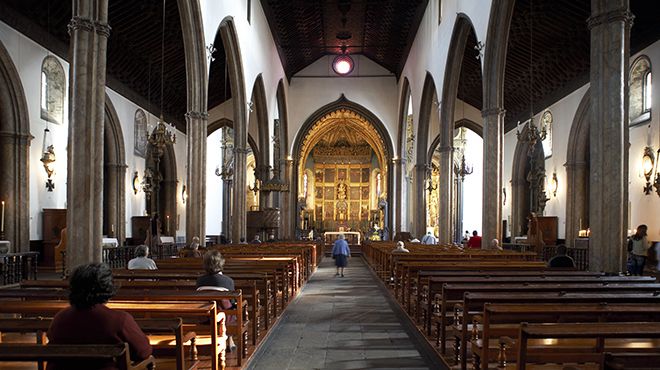 Sé Catedral do Funchal
Headquarters of a diocese that was once the largest in the world.

The Church of Santa Maria was built by order of King Manuel I to replace the Church of Our Lady of Calhau, in the island's first ever parish, as it was too small to house the growing number of faithful. The new Church of Santa Maria or «the Big Church», as it was then referred to, was dedicated to Our Lady of the Assumption and occupied an area in ​​the historical centre then known as Largo do Duque.

Started in 1493 and dedicated on October 18, 1517, the church was elevated to Cathedral by Pope Leo X who instituted the bishopric of Funchal, then the largest diocese in the world, since it covered all territories discovered by the Portuguese, from Brazil to Japan.

The Cathedral was the most emblematic work of the Manueline period built on the island of Madeira and is thanks to the talent of the architect Pêro Anes, Master of Royal Works. Virtually unchanged since the time of its foundation, it has a simple facade, with a gothic portal of thin archivolts.

The interior of the building bears a structure in so-called Mendicant Gothic style, and a Latin cross floor-plan. Of note is the remarkable Mudéjar ceiling - one of the most beautiful in Portugal, made of cedar wood from the island and inspired by Mudéjar design, with ivory inlay and detailing - as well as the 16th century altarpieces and the 18th century tiles. The Main Chapel's chancel displays saints, prophets and apostles in 16th century pageantry, among other details celebrating life on the island of Madeira, such as cherubs carrying bunches of bananas and wineskins.

The Cathedral is a trove of treasures of great beauty and historical value, some of which are on show in the Museum of Sacred Art, such as the great processional cross in silver-plate gifted by King D. Manuel I, and considered one of the masterpieces of Portuguese jewellery.
Contacts
Address:
Rua do Aljube
9000-067 Funchal
Telephone:
+351 291 228 155
---
---