Special places for book lovers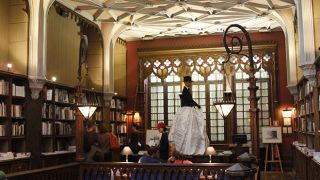 Many of the tourist itineraries include locations with a certain atmosphere that, at the same time, make them special locations for those who like books, making them a must-see for anyone visiting Portugal.

PORTO
Livraria Lello & Irmãos
This small bookshop, built in 1906 and located in the historic centre of Porto near the emblematic Torre dos Clérigos, became world famous as the inspiration for the author of Harry Potter. Considered one of the most beautiful bookshops in the world, its neo-gothic facade is decorated in Art Nouveau style and inside there is an iconic red staircase.
Among the main attractions of Porto is the Serralves Foundation. Known for its gardens, it houses the Casa Art Déco and the contemporary art museum building designed by the renowned architect Siza Vieira. Besides the space and the cultural programmes, it offers visitors a bookshop specialising in contemporary art and artists' books.

Coimbra
Biblioteca Joanina, University of Coimbra
A visit to the University of Coimbra, classified as a World Heritage Site, must include a visit to the Joanine Library. It was built by order of D. João V and completed in 1728, with decorations in Baroque-style carvings and paintings. The library houses a collection of books from the 16th and 17th centuries, which includes some rare editions. On the shelves there are secrets and tricks that are revealed during your visit, in particular, the story of a small colony of bats that live there and help "clean" the books.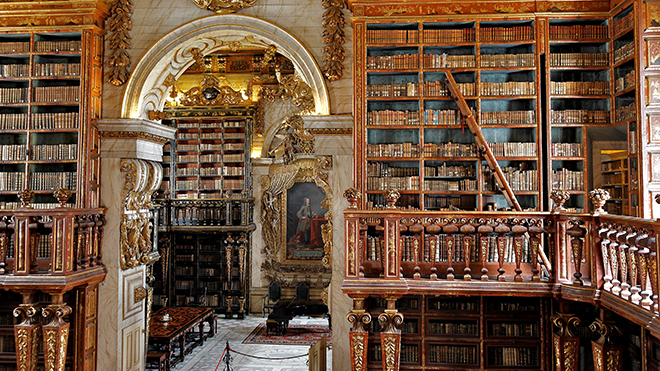 Biblioteca Joanina da Universidade de Coimbra © Paulo Mendes

Óbidos, Literary Village
Among the many points of interest in Portugal, there is a special affection for Óbidos. This land, offered to queens, was named by UNESCO as a "Creative City of Literature". Since that time, literature has taken over in this walled village, with bookshops in unusual places, such as old churches that are no longer used for religious services, small grocery stores, cafes, and even hotels dedicated to the theme.
For more information, visit http://obidosvilaliteraria.com/cidade-criativa-da-literatura/

Mafra
Library of the Mafra Convent
The monumental architectural site of the Mafra Palace and Convent, built during the reign of D. João V (1707-1750), includes a valuable library. It is 83 metres long and is the most important royal monastic library of the 18th century, comprising around 40 thousand volumes that still display the system of organisation used by the Franciscan friars Referenced in José Saramago's work, Memorial do Convento (English title, Baltasar and Blimunda), it is one of the most important Portuguese Baroque monuments.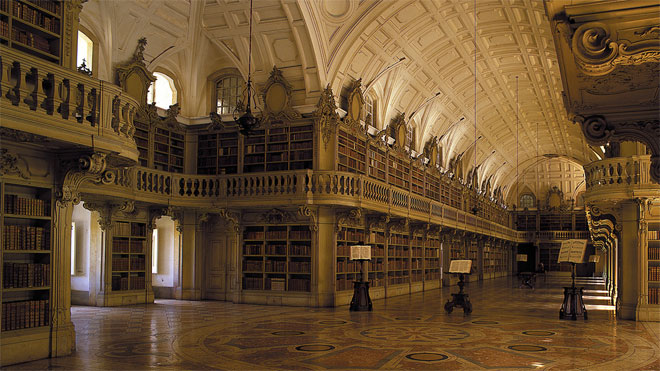 Palácio Nacional de Mafra © António Sacchetti

LISBON
Chiado
Located in Chiado, one of the oldest neighbourhoods of Lisbon, the bookshop Livraria Bertrand, founded in 1732, is the oldest one in Lisbon that is still open for business. Here, too, is the Livraria Ferin, in operation since 1840.
This cosmopolitan neighborhood has been the centre of Lisbon's cultural life for centuries, with cafes, bars, theatres and concert halls that have always attracted artists and performers. For those who like old books, it's worth your while to walk through the streets around Calçada do Combro, where the street car runs, and near the Bica Elevator. You'll be amazed at the number of shops selling used books and antiques.

Avenidas Novas
For more recent reference works, the Gulbenkian Foundation and Culturgest have bookshops that specialise in art.
If you're keen to see more, we suggest you have a look at the local bookshops, places that don't normally appear on the tours. In the Bairro Alto, at Largo do Calhariz, thre is the Camões Library. In this 18th-century building the welcoming reading rooms, with their plaster ceilings, offer surprising views over the Tagus River. At Campo Pequeno, it's easy to find the 17th-century noble palace that has been transformed into the Galveias Library. Take the time to go in and see the reading rooms decorated with paintings and ceramic tiles and have coffee in the small garden.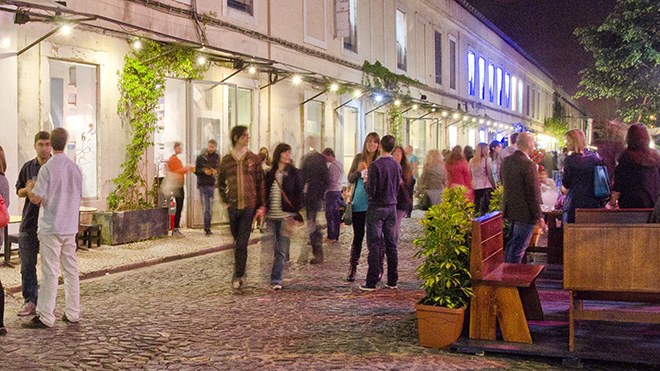 Lx Factory © Turismo de Lisboa

Lx Factory
In the Alcântara neighbourhood, a space for culture, leisure and creativity was installed in an old 19th-century factory. At Lx Factory, you will find shops, cafes, restaurants, and workshops for creativity and design. We highlight the Ler Devagar Bookshop, installed in an old print shop, which is also a gallery and a space for sharing and disseminating culture.
---