Windsurfing and kitesurfing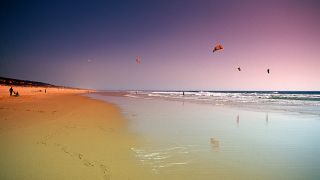 Gliding along on the water, blown by the wind, guarantees a lot of fun and some really relaxing moments. But for an extra shot of adrenalin, there's nothing like the Atlantic waves which bathe the Portuguese coast.

With the right waves and a northerly wind between March and October, Guincho is considered by many experts to be the best place for windsurfing in Portugal. In July and August, conditions are at their best, and national and international windsurfing competitions are held here.
Kitesurfing is more recent though; it attracts many followers here, as does Praia de Carcavelos, also on the Cascais coastline, but closer to Lisbon, which offers good conditions for both sports.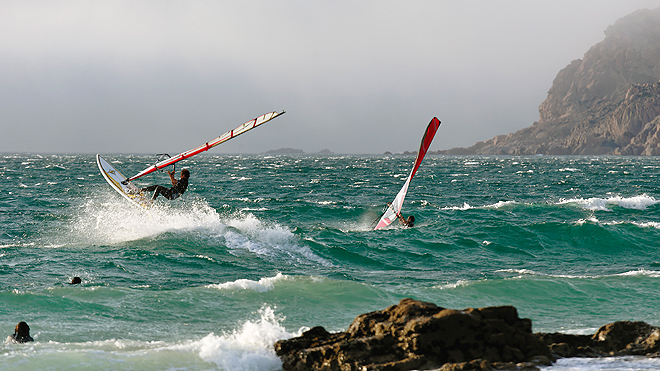 Photo: Guincho ©Junta de Turismo da Costa do Estoril

The offer of good spots, however, for lovers of kitesurfing and windsurfing does not stop here… Also close to Lisbon, but on the opposite bank of the Tagus, the Costa da Caparica beaches are very popular, especially São João and Fonte da Telha, alongside Lagoa de Albufeira and Sesimbra, further to the south. In the Algarve, near Sagres, Tonel and Martinhal beaches stand out, as does Praia da Rocha, albeit only in winter. North of Lisbon, there are other unmissable places: Praia do Baleal, near Peniche; Lagoa de Óbidos, Costa Nova and Murtosa, near Aveiro; Matosinhos, near Porto; and Ofir and Esposende, Praia do Cabedelo, in Viana do Castelo, and Moledo do Minho.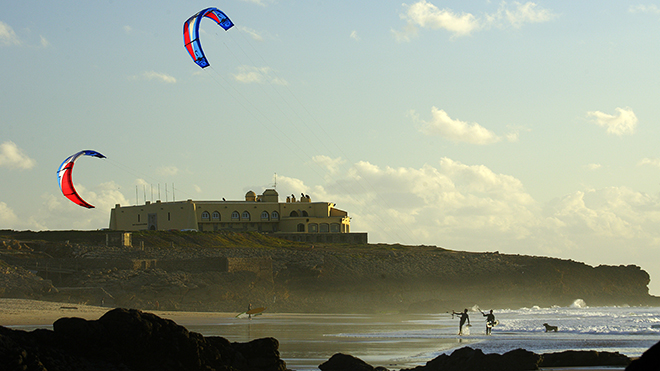 Photo: Guincho ©Junta de Turismo da Costa do Estoril

In Madeira, you can go windsurfing all year round. Funchal, Porto da Cruz, Achadas da Cruz, Caniço, Caniçal, Paul do Mar and Porto Santo are some of the best spots. For kitesurfing, the bay of Funchal, Praia Formosa and Porto Santo are particularly recommended. In the Azores, you will also find good spots at Praia de Água d'Alto and Monte Verde, on São Miguel, on the Island of Terceira, near Praia da Vitória, and on the Island of Faial.

The list of places for those who like it a little less wavy or are just beginning is endless. For instance, the Troia beaches and nearly all of the Algarve coast offer many spots with excellent conditions where you can find places to hire equipment and schools to learn. And inland, from north to south, the lakes and dam reservoirs also provide good conditions. In the Azores, you can even kitesurf or windsurf in the craters of ancient volcanoes. Truly radical!
---