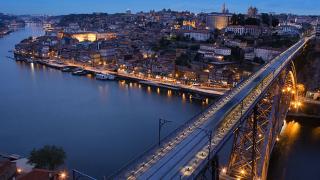 ---
Don't miss
taste a glass of Port when you go out in the evening
try a Porto Tonic, if you prefer a more refreshing way to enjoy this renowned liqueur wine
Porto is a vibrant city and its nightlife is famous beyond borders.

In this cosmopolitan city, you will find all kinds of restaurants, from traditional cuisine to the latest fusion cuisine created by prestigious chefs. It is a given that you can eat very well in northern Portugal and Porto is no exception. From the simplest tavern to the most sophisticated restaurant, it will all depend on your choice criteria. One of Porto's specialties is the famous francesinha, a sandwich with various fillings, bathed in sauce, which is hard to find elsewhere in the country. But fresh fish and seafood dishes also abound and are highly recommended, as are cod dishes or meat dishes of which the highlights are tripe Porto style and kid. As a starter, a typical caldo verde (potato purée-based soup with finely sliced kale) is always welcome.

After dinner, you can try the bars and night clubs offering music for every taste. But if you prefer to attend a concert in an ambience beyond compare, do go to Casa da Música, whose wide-ranging offerings cater for every audience.
---
---