Lamego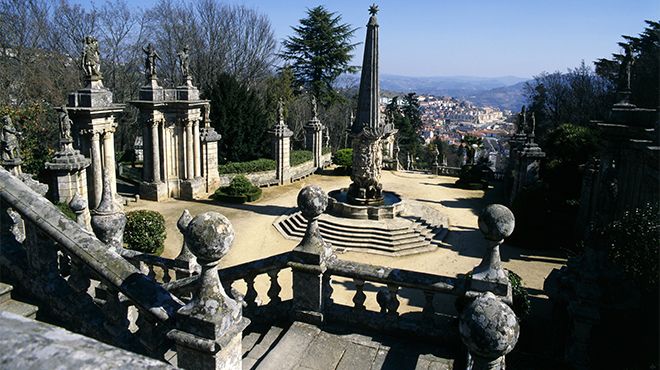 Lamego
Roughly 12 kilometres from the banks of the Douro, Lamego enjoyed a period of great prosperity in the eighteenth century when the city produced the so-called "fine wine" that later gave rise to the world famous Port wine. It is a very ancient city, having been raised to a bishopric by the Visigoths, under the name of Lamecum, as early as the seventh century.

Later, it was to suffer the same fate as so many other towns and villages that thereafter became Portuguese: it was captured by the Moors, reconquered by the Christians, and then returned once again into Muslim hands, until it was definitively reconquered in 1057 by Ferdinand I, the Great, king of Castile and León, and the great grandfather of D. Afonso Henriques, the first king of Portugal. Remaining as evidence of these mediaeval times are the castle, on the hill overlooking the city, the Cathedral and the small church of Santa Maria de Almacave.

The Church's powerful influence over many centuries, later curtailed by the suppression of the Religious Orders in 1834, has left Lamego with a large number of churches revealing the classical influences popular at the time of their construction in the sixteenth and seventeenth centuries. Whenever you pass by one of these, make sure to enter inside and appreciate the stories recounted on the azulejos lining the walls, the sacred paintings and the beautiful carved and gilded wood decorations added in the baroque period. Particularly impressive are the Church of the Convent of Santa Cruz, offering a delightful view over the city and the sumptuous and monumental baroque shrine dedicated to the Virgin Mary, in the form of Nossa Senhora dos Remédios, who, from her lofty position some 600 metres above the town, responds to the appeals of distressed worshippers by granting them a remedy for their afflictions. Each year, the city pays Our Lady much-deserved homage by devoting a festival to her - the splendid Romaria de Nossa Senhora dos Remédios.

At the opposite end of the city, but in direct line with the staircase leading to the shrine of Nossa Senhora dos Remédios, stands a beautiful eighteenth-century palace, built in an elegant and sober baroque style, which was once the residence of the bishops of Lamego. Carved above the front door is the coat of arms of the bishop D. Manuel Vasconcelos Pereira, who was responsible for the rebuilding and enlargement of the old episcopal palace. About 1940, this space was altered to house the extremely rich collection of the Lamego Museum, an essential item on the list of all visitors.

The fact that Lamego is situated so close to the banks of the river Douro means that there are a variety of walks and tours offering remarkable panoramic views over the extensive valleys planted with the vineyards that produce the famous Port wine.
---