Marina de Vilamoura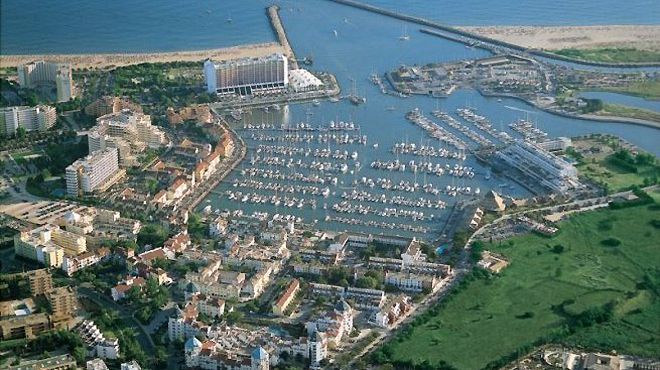 Marina de Vilamoura
With its 825 berths, the Marina at Vilamoura is the largest in the country.

After passing through the entrance at the bar (which has never been closed), there is a safe anchorage protected by two jetties (the western one is 660 metres long and the eastern one 430 metres long). This provides access to the inner harbour via a small channel where the reception quay and fuel supply station are to be found.

The harbour is divided into two separate areas for boats with different draughts and is navigable by boats with draughts of up to 4 metres and up to 50 metres in length. However, as a precaution, boats that are more than 35 metres long and have draughts of more than 3 metres should contact the marina services by radio (VHF, channels 9 and 16) before entering, in order to obtain the latest information on the marina's depth. The marina has an extremely wide range of facilities for pleasure craft, including repair services (boatyard, electrical repairs, repairs to engines and sails) and has a 30-ton portal crane, 3-ton travelling crane and 1-ton electric crane, ramp and tidal grid.

There are all kinds of shops around the marina (including a chemist's and banks), as well as restaurants, hotels and a yacht club, all of which help to make the visitor's stay even more pleasant.
Situated in the heart of the Algarve coast, the Vilamoura Marina is surrounded by magnificent beaches and prestigious tourist developments, with several golf courses close at hand.
Contacts
Address:
Vilamoura 
8125-409 Vilamoura
Telephone:
+351 289 310 560
Marina type
: Ocean
EEC Blue Flag
Radio
Frequency
: VHF 09, 16, 62
Tide information
Guiding lights
Filling station
Water supply
Power supply available
Sea ramp available
Engine repairs
Hull repairs
Sail repairs
Tidal grid services
Travel lift available
Lifting gear available
Number of permanent mooring sites
: 825
Maximum ship hull size at berthing point
: 4 m
Maximum length at berthing point
: 60 m
Solid residue collection service
Boats for hire
Restaurant
Shops
---