Santuário de Nossa Senhora dos Remédios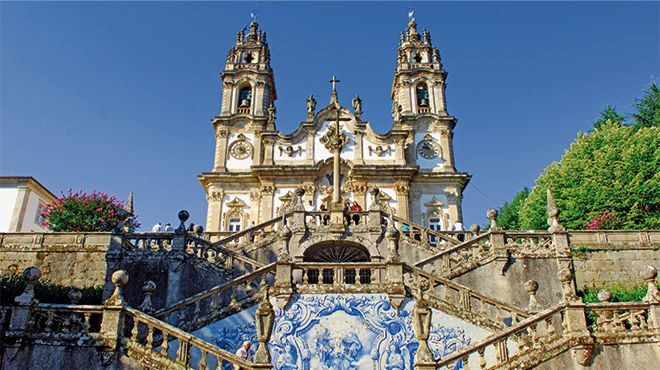 Santuário de Nossa Senhora dos Remédios
From Worship of St. Stephen to Marian Devotion.

Built on top of Mount St. Stephen (Monte de Santo Estêvão), between the 18th and 20th centuries, this Marian shrine is visited by pilgrims from all over the country - especially on September 8, the day of the Nativity of the Virgin and the high point of the feasts in honour of Our Lady of Remedies, which usually include fireworks, musical shows and various sports and recreational activities amidst the dense grove of the pleasant Santo Estêvão Park. The Procession of the Triumph, with its richly adorned paraders, is a highpoint.

Already during the Middle Ages catholic worship was celebrated there, in an old hermitage dedicated to Santo Estevão that was erected in 1361. At risk of collapsing, it was demolished in the 16th century and the construction of a new hermitage in the same spot was started, by the Bishop of Lamego, where an image of the Virgin and Child was placed. Worship of St. Stephen was thus progressively replaced by Marian Devotion. In 1750, the construction of the present sanctuary began, and was only finished in 1905.

The monumental Baroque staircase (with 686 steps) that gives access to the sanctuary is divided over several levels, punctuated by sculptural elements, such as statues of the kings, the backrests of the eight fountains (among which the Remédios, by Nicolau Nasoni) and various allegorical representations. Half way is the Chapel of Desterro.

Inside the temple is Rocaille in style and entirely dedicated to Marian iconography: on the main altar in gilded carving, in the altarpieces dedicated to the Virgin's parents, in the three stained glass windows with images of Our Lady of the Conception, the Sacred Heart of Jesus and the Annunciation, and in the tiles of the Conimbrigan artist Miguel Costa that represent key moments in Mary's life.

The tomb of the founder of the sanctuary, Canon Jose Teixeira Pinto, is at the entrance of the nave.
Contacts
Address:
Monte de Santo Estevão 
5100-025 Lamego
Telephone:
+351 254 614 392
Winter: 8.30 a.m.- 1.30 p.m. / 1.30 p.m.-6.00 p.m.;
summer 8.30 a.m. - 7.00 p.m.
---