Santuário de Nossa Senhora da Nazaré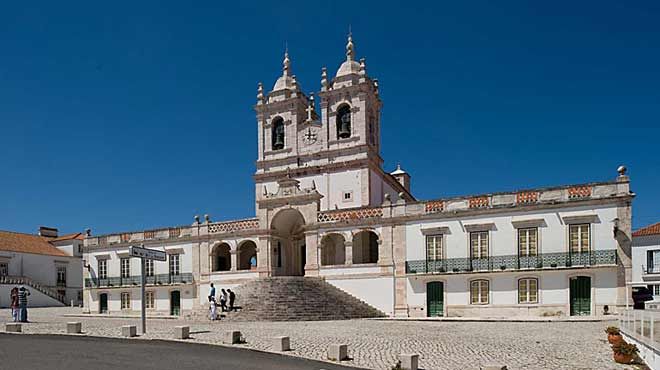 Santuário de Nossa Senhora da Nazaré
Marian Devotion in the 8th century.

The image of Our Lady of Nazareth is that of a black virgin. Carved in wood, it was brought from Merida to this oceanic promontory in the year 711 by Friar Romano, a monk of the convent of Cauliniana, who fled the Muslim invaders in the company of D. Rodrigo, the last Visigothic king after the defeat of the Christian armies in the Battle of Guadalete. It is presumed that they sought refuge in the Visigothic monastery which then existed in the vicinity, and from which the St. George Church survives.

On the Sítio promontory in Nazaré the three shrines in which the image was venerated throughout time can still be found: a small grotto near the top, one hundred and ten metres above the beach, where Friar Romano lived as a hermit and was buried; the Chapel of Memory, built by D. Fuas Roupinho, on the edge of the cliff, above the cave where the image was venerated between 1182 and 1377; and the Sanctuary of Our Lady of Nazareth, founded by King Ferdinand I in 1377, which began to be rebuilt in the early seventeenth century until it acquired its present form, its medieval origins today hardly recognisable.

The large facade rises above a courtyard big enough to accommodate pilgrims. It is dominated by two bell towers and is flanked by two buildings: the hospital and the old royal palace, where the kings and other high-ranking dignitaries were lodged when they visited.

Inside, early 18th century Dutch tiles cover the nave, as well as paintings of the Sacristy that depict the history of the miracle that saved the life of D. Fuas Roupinho, warden of the Castle of Porto de Mós, who had a habit of hunting in the area. According to legend, on a foggy morning in 1182, D. Fuas Roupinho was chasing a deer when the animal vanished over the cliff. Alarmed by danger, he asked the Virgin for help and his horse stopped abruptly, saving his life. As a means of giving thanks, D. Fuas Roupinho ordered the construction of the Chapel of Memory.

The image of Our Lady of Nazareth, which is believed to be an original, is on the altar of the church and annually attracts a large number of pilgrimages, which take place on September 8.
Contacts
Address:
Largo de Nossa Senhora da Nazaré - Sítio 
2450-065 Nazaré
Telephone:
+351 262 550 100
April to September: 9 am.-7 pm.;
October to March: 9 am.-6 pm.
---