Castelo de Almourol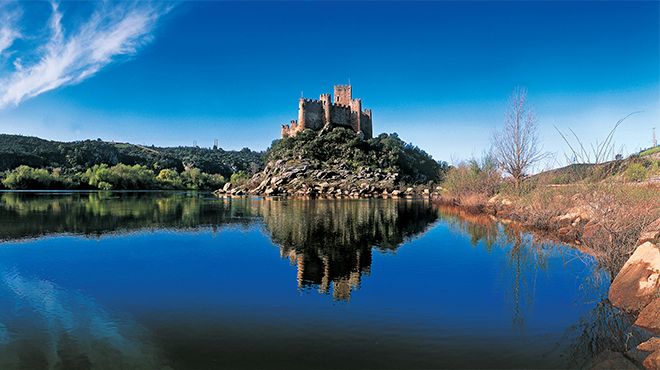 Castelo de Almourol
In the middle of the River Tagus, the enigmatic Almourol Castle is one of the most emblematic monuments of the Christian reconquest.

Situated on an island in the middle of the River Tagus, Almourol is one of the most distinctive castles in Portugal, because of its historical significance and surrounding landscape.

Its history reminds us of the Reconquest of the Portuguese territory during the Middle Ages. When the Christians arrived here in 1129, the castle already existed under the name of Almorolan, having been incorporated immediately afterwards into the land that was placed under the protection of the Knights Templar, whose Master at that time was Gualdim Pais. According to an inscription at the entrance to the castle, its reconstruction work began in 1171.

Together with the castles of Tomar, Zêzere and Cardiga, it formed part of the defensive line of fortifications along the River Tagus.

After the Order of the Knights Templar was disbanded and the need to defend the territory no longer existed, the castle lay abandoned and forgotten until it was espoused by the prevailing Romantic spirit of the 19th century and restored to its present-day appearance.
Contacts
Address:
Ilhota do Rio Tejo Praia do Ribatejo - Vila Nova da Barquinha
Telephone:
+351 249 720 358
Summer: 9am - 7pm / Winter: 9am - 5pm Closed: 1 January, Easter, and 25 de December
---