Castelo de Silves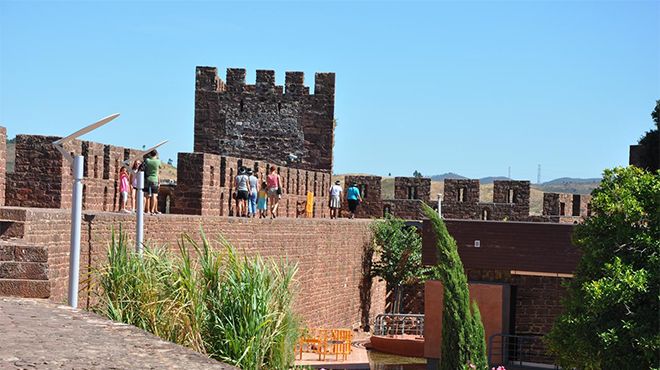 Castelo de Silves
No visit to Silves would be complete without visiting the Castle, one of the best viewpoints for looking out over the city and the region.

The castle that can currently be see is what remains of a defensive system that included Silves in the Almohade period of Muslim rule (12th to 13th centuries), with some maintenance work carried out by early Portuguese kings after the Christian reconquest in 1242. The structure was made up of various sections: the citadel, the upper fortified walls, the cuirass, the outer walls and various ditches and barbicans that underpinned the integral construction of the city.

The walls take on the shape of an irregular polygon, strengthened by eleven external rectangular towers. Four of the towers underwent changes in the 14th and 15th centuries with arched rooms and broken arched gothic gates added. There were two exits through the walls; the main double gate leading down to what was then the medina (currently the city) and another smaller gate facing north. This provided direct access to the exterior and became known as the Traitor´s Gate.

The citadel is the most important area still housing two original cisterns; the storage tanks known as the Moura Cistern and the Dogs Cistern which is said to connect to the river. Ongoing archaeological work is seeking to excavate a Muslim residence that is believed to be the "Palace of the Verandas" and home to the master of these lands. There are various references to this in documents from that period.

The construction is made out of a mixture of argil clay, grit, sand and chalk in addition to the red sandstone typical to the region (Silves sandstone) which provided the reddish tone. The most significant restoration work on the castle was carried out in the major conservation projects carried out across Portugal throughout the 1940s.

On entering the Castle, there is a statue in honour of king Sancho I who, in 1189, took Silves from its Almohade inhabitants, the final Arab rulers of the city.
Contacts
Summer - 9am to 8pm / Winter - 9am to 5pm
---