Naturtejo Geopark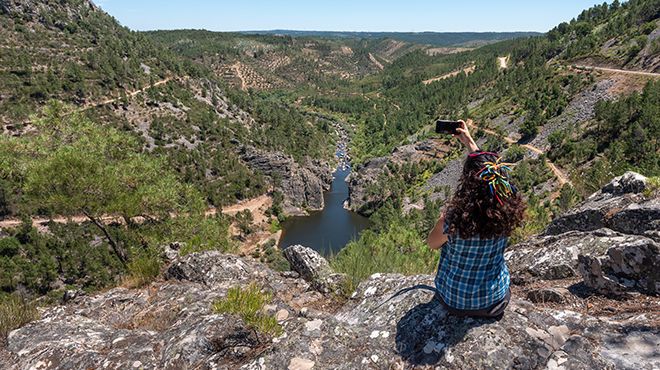 Naturtejo Geopark
Located between the Tagus valley and the mountains in the centre of the country, Geopark Naturtejo was in 2006 the first in Portugal to be integrated by UNESCO in its global network of geoparks, an international seal of approval which promotes the balance between Man and Nature. With a rich geological, historical, natural and cultural heritage, this territory extends over a large area of about 5,000 km2 which is distributed over seven municipalities - Castelo Branco, Idanha-a-Nova, Nisa, Oleiros, Penamacor, Proença-a-Nova, Vila Velha de Ródão.
In this site are represented the main stages of the geological history of the last 600 million years in 176 geosites, all locations of recognised geological interest, of which 17 geomonuments stand out, such as the ichnofossils of Penha Garcia or Portas de Ródão.
In this multimillennial landscape, pagan, Roman, Arab, Jewish, and Christian influences are all mixed up together. There are many testimonies of ancient history in the many castles, churches and museums, in the schist villages or in the historical villages such as Monsanto, once considered to be the most Portuguese village in Portugal, and Idanha-a-Velha, a location in which we can find the Visigothic cathedral of Egitânia.
This is an area with ideal conditions for Nature Tourism and for the practice of many activities suitable to different degrees of physical demand, such as walking and biking, boat trips and canoeing on the Tagus River and its tributaries, or climbing. Bird watching deserves special emphasis, especially in the Tagus International Natural Park, a protected area in which you can observe approximately over 154 species of birds such as vultures, black storks, the Iberian imperial eagles or bee-eaters.
A visit to the Naturtejo Geopark is also an opportunity to get to know the ancient traditions, stories, and rituals of its people. In order to appreciate both the aromas and flavours of the regional gastronomy where honey, cheeses, sausages, or olive oil stand out. The diverse cultural expressions of which the richness and diversity of handicraft is also an example of this. In fact, pieces such as the embroidery of Castelo Branco, Nisa's pottery or the adufes (a traditional Portuguese percussion instrument) of Idanha-a-Nova are worth noting.
Contacts
Naturtejo - Empresa de Turismo, EIM
Av. Nuno Álvares, 30
6000-083 Castelo Branco
Tel.: +351 272 320 176
Guided Tours
Signposted routes
Park area
: 5.000 Km2
Altitude
: 40 m2 - 1.227 m2
Accommodation facilities available
---