Xisto Sentido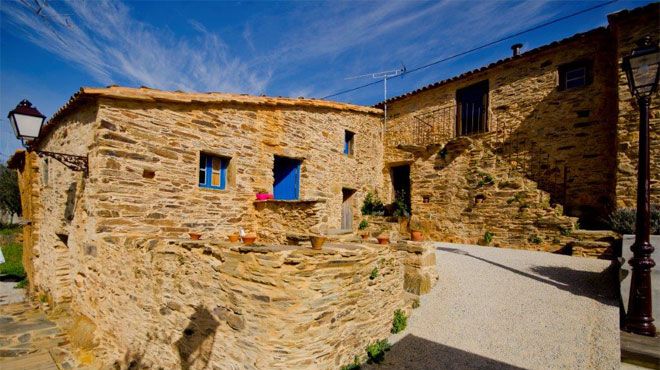 Xisto Sentido
Type of accommodation
Tourism in the Country
Category:
Country Houses
Xisto sentido place consists of four shale houses which have been carefully restored while preserving their original style. It has ample surrounding space, a restaurant and a bar. To feel "back to the origins" you will have at your disposal the heritage house Espaço Memória João Terra.
Contacts
Address:
Rua da Bica, Martim Branco
6000-001 Almaceda
Telephone:
+351 96 888 78 57
Number of beds
: 7
Number of suites
: 4
Rooms in the main house
: 4
Double rooms with toilet
: 4
Single rooms with toilet
: 1
Restaurant
Bar
Pets allowed
Central air conditioning
Central heating
Laundry service
Television room
Garden
Air conditioning in room
Heating in room
Hair dryer in room
Television in room
Breakfast timetable
: 8:00am - 10:00am
Bike friendly
Outdoor parking
Disabled access
Facilities for disabled
Reserved parking spaces
Accessible route to the entrance:
Accessible entrance:
Accessible circulation inside:
Accessible areas/services:
Bedrooms
Restaurant
Bar/Café
Patio
Care skills:
Motor disability
Mental disability
Guiding price
: $$ (30€ - 60€)
Registration No.
: 5041
The houses have a double bedroom, a fireplace, air conditioning, TV and a bathroom with shower:
- alecrim house, in a green color atmosphere, with a kitchenette (possibility of an extra bed) ;
- amores-perfeitos house, in shades of rose, with a living and reading space with fireplace (possibility of an extra bed) ;
- rosmaninho house, in lilac colors, with possible connection to the casa alfazema;
- alfazema house, in violet colors, with accessibility for the disabled, (possibility of an extra bed , no TV).

The restaurant Bem-Me-Quer is open and advance booking is required.
---