Casa Grande do Seixo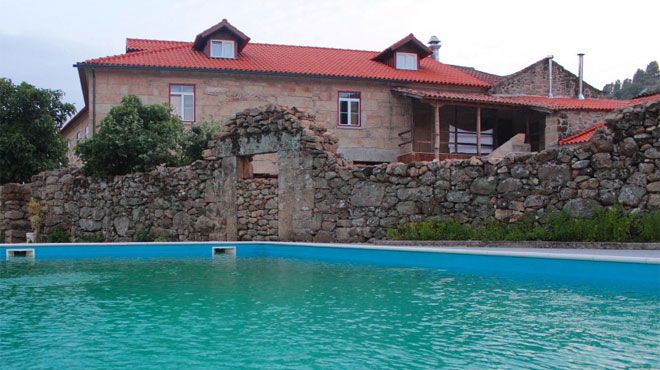 Casa Grande do Seixo
Type of accommodation
Tourism in the Country
Category:
Agricultural Tourism
Casa Grande do Seixo it's an hotel from the 18th Century, located in a valley between the mountains of Falgueira and Barrocal, distancing 8 km from Vidago and 14 km from the Termal City of Chaves (Ancient roman town of Aquae Flaviae).
Around the hotel, we find a natural and an healthy paradise, inviting to relax from the confusion of the big cities.

The Hotel has an exterior pool, surrounded by vinyards, agricultural fields and forest, with rural paths. For those that like to read, you find a small sitting-room adequated for reading and relaxing in silence.

The main activity of the house is Wine Tourism, producing the Erbon Wine. Thanks to the wine making features, it's possible to get aquinted with the house's activities specially the fermenting of the grapes (like in the ancient times), visit to the old stone cellar and the licours' handmade.

In the house it's possible also, to do the Winetasting with various food entries, taste licorous sweet wine (jeropiga), and different homemade brandies.
Contacts
Address:
Seixo
5425-102 Loivos
Telephone:
+351 93 985 84 82
Number of beds
: 12
Number of suites
: 3
Number of rooms
: 3
Rooms in the main house
: 7
Double rooms with toilet
: 7
Restaurant
Bar
Reserved area for non-smokers
Reserved area for smokers
Baby Sitting
Pets allowed
Internet Access
Central heating
Television room
Swimming-pool
Garden
Internet access in room
Heating in room
Hair dryer in room
Television in room
Telephone in room
Breakfast timetable
: 9:00 am - 10:30 am
Bike friendly
Outdoor parking
Covered garage
Disabled access
Facilities for disabled
Reserved parking spaces
Accessible route to the entrance:
Accessible entrance:
Reception area suitable for people with special needs
Accessible circulation inside:
Accessible areas/services:
Meeting rooms
Restaurant
Bar/Café
Patio
Swimming pool
Care skills:
Visual impairment
Hearing impairment
Motor disability
Mental disability
Guiding price
: $$$ (60€ - 90€)
Travellers Cheques accepted
---