Atlantic Coast Surf School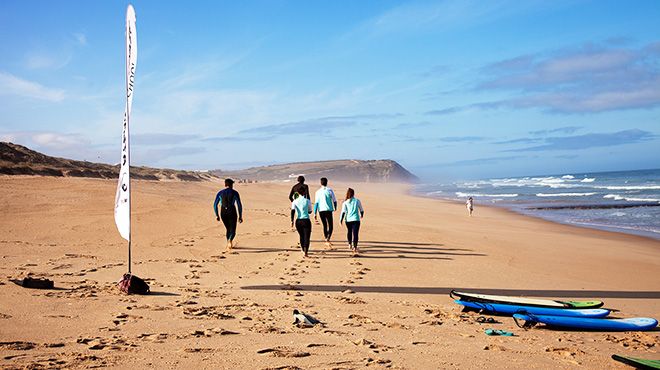 Atlantic Coast Surf School
Safe and Fun Surf Lessons on the west coast of Portugal!
Our Surf School is in Praia Azul – Santa Cruz! Close to Lisbon. Surf Lessons + accommodation surf holidays packages also available.
And Surf Camp
Less crowd, more surf…surfing on the best waves of Europe. We'll help you reach your goal quickly, safely and efficiently no matter if it's riding your first wave or your first barrel.
The quality of our surf lessons are top priority for us here at Atlantic Coast Surf School.
Our objective is to offer the best surf lessons available for all abilities.
We provide high-quality equipment, and you will have a licensed surf instructor and lifeguard.
Our surf lesson group sizes are small and we offer excellent student to instructor ratio.
We treat surfers of all levels individually, giving them the best support and help to advance fast.
Our search for perfect waves and conditions take us to Peniche region as well.
Surf lessons in English, French, Portuguese and Spanish (and some German as well) for all surfing levels.
Have fun!

Contacts
Address:
Rua Varandinha - Praia Azul
2560-411 Silveira
Telephone:
+351 913 922 227
Bike hire
Bodyboard
Cycling
Walking
Surfing
Trekking
Activities accessible to people with disabilities
Clean&Safe – This establishment is compliant with hygiene and cleaning requirements for the prevention and control of Covid-19 as recommended by the DGS - Directorate-General for Health. More information at www.visitportugal.com. (link para https://www.visitportugal.com/en/node/422183)
Registration No.
: 662/2019
---