Mina de Sal-gema de Loulé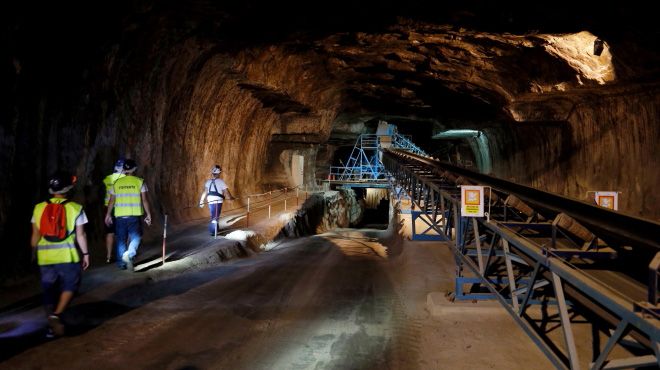 Mina de Sal-gema de Loulé
Tours and Other Tourism Services
The Tour

Fininho (Slender), the mine mascot, and his friend Salty, invite us to an adventure in which:
- At 230 m depth, under the city of Loulé, we discover the history of the rock salt mine and admire the 230 million years old geological formations.
- In an interpretation route on foot, inside the mine, with about 1.3 km, we discover the evolution of rock salt mining processes.
- The geological importance of the mine in the region and the applications of Rock Salt throughout the history of man until today are discovered.

This is the visit to the deepest tourist site in the country, which is simultaneously a place of mining work in an active mine, where Rock Salt exploitation remains in full harmony with Mining Tourism Activity.

Contacts
Address:
Rua Combatentes da Grande Guerra, 80
8100-545 Loulé
Telephone:
+351 925 969 369
Tourism Circuits
Guided Tours
Other Activities
Who can visit the Mine: Participants between 6 and 106 years old, having full mobility.
Observations: Comfortable clothing and closed sports shoes are recommended. | Temperature inside the mine 23º C (73.4º F). | All safety equipment is delivered before the visit begins and collected / returned at the end of it. | Unsuitable visit to participants with reduced mobility, with scotophobia (fear of the dark) or claustrophobia to spaces like underground public transport, underground garages and natural caves with organized visits or mines.
Registration No.
: 282/2020
---