516 Arouca Bridge (Ponte 516 Arouca)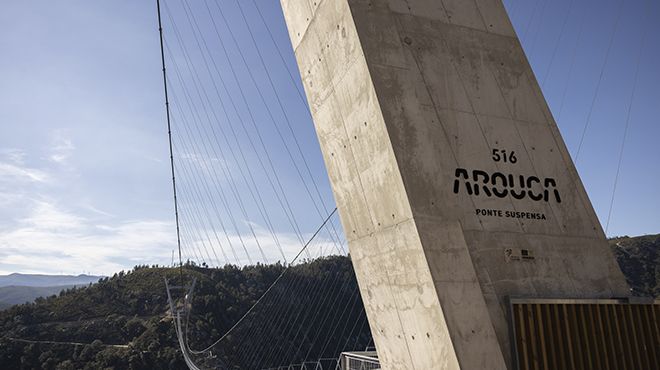 516 Arouca Bridge (Ponte 516 Arouca)
The 516 Arouca Bridge is one of the longest pedestrian suspension bridges in the world, being 516 meters long. It is located in the municipality of Arouca, in the district of Porto, and integrates the Arouca UNESCO Global Geopark, next to the Aguieiras waterfall. It crosses the Paiva River, being the central point of the bridge at a height of 175 meters from the river.
It was designed by the Itecons institute in Coimbra, a project that began in 2016 and will open to the public in May 2021.
The World Travel Awards awarded the construction in 2021 as the Best Tourist Development Attraction in Europe. The entrance gives access to the Paiva Walkways (Passadiços do Paiva), both points of interest of the Arouca UNESCO Global Geopark, and can be visited on the same day.
It is 1.20 meters wide and consists of 127 trays, each 4 meters long; they are made of metal railings, aggregated by a rigid net, with a steel cable handrail. All precautions were taken throughout the process, to ensure the safety of those who walk the half-kilometre; however, access to it is always dependent on the weather conditions and also a limited number of people simultaneously.
Contacts
Address:
Vilarinho Areinho, 4540-257
Telephone:
(+351) 256 940 258
---