Fado, Music of the World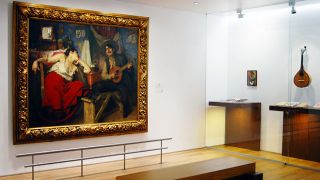 A shawl, a guitar, a voice and a lot of feeling. A recognised symbol of Portugal, this simple image can describe Fado, a music of the world that is Portuguese.

In its essence, it sings the feeling, the heartbreak, the longing for someone who left, the daily life and the conquests. After all, the matches and mismatches of life are an infinite theme for inspiration. A style which values above all the performance of the voice, which gives colour to the repertoire sung, brings the interpreter, the musicians and the listener to the same brilliance.

They say that Fado is Fado, it comes from within the Portuguese soul and there are no divisions to be made. Even so, there are those who risk distinguishing between professional and amateur. The first is sung by those who make their voice their way of life. The second, also known as vadio, has other characteristics, although the nostalgic nature is the same. Once again appearing in the working-class quarters of Lisbon, the Fado singers are never invited... they invite themselves and have no established repertoire.

This spontaneity dates back to the mid-19th century, the beginnings of Fado, which were based on transgression, in environments frequented by the margins of society. It was during this phase that the most famous narrative in the history of Fado was born, about the relationship between the Count of Vimioso and Maria Severa Onofriana (1820-1846), a famous singer of the time. The couple were at the root of a celebrated novel (A Severa, 1901), which has been adapted in various media to this day.

Fado houses were concentrated in Lisbon's historic quarters, mainly in Bairro Alto, from the 1930s onwards. From then on, the reputation of this very Portuguese musical genre escalated and it was in the 1950s that the prestige of Amália Rodrigues, the standard figure of Fado, crystallised.

The song that stubbornly refused to be silenced saw its place in the public arena in the 1980s, as national heritage, at a time when popular interest was being renewed. In 2011, Fado, an identity symbol of the capital and the country, was classified by UNESCO as World Heritage.

To immerse yourself in this world, there's nothing like visiting the Fado Museum, located in Alfama, Lisbon's symbolic and resistant historic quarter. From a vast collection of hundreds of donations, it's possible to discover the history of Fado from the first quarter of the 19th century to the present day. Also in Lisbon, near Madragoa, is the house where the great Amália, who died in 1999, lived, now turned into a museum. The most charismatic of Fado singers has her final tribute here. It is to her that we owe the Fado singer's trademark image: the classic black dress, adorned with a shawl.
---