Commerce with History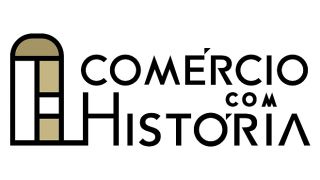 Look for the traditional retailers and be surprised by the tales about the neighbourhoods and the people who live and work there.

With their historical, cultural and social interest, shops both old and new form part of the identity of a city and the daily life of its neighbourhoods. They have the advantage of offering personal service that you can trust, and making everyone feel at home. Many have a long history that can be detected in the architecture, furniture or decoration and it is thanks to the passion of their owners that they have lasted so long. Choosing traditional traders for shopping also helps to preserve this heritage and making it part of local history.

We have some suggestions that you can include in your itinerary, but if you want to find out more, go to www.comerciocomhistoria.gov.pt. In century-old bookshops, old-fashioned cafés, bars, liquor stores, watchmakers, fabric and haberdashery shops where exceptional pieces can be found and where the ways of doing things are shared... there are many stories to be found.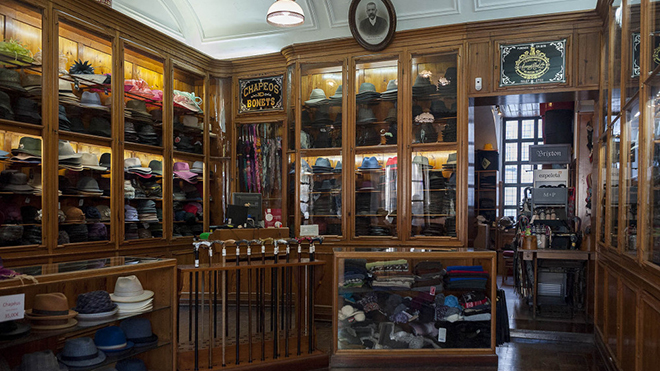 Chapelaria Azevedo, Lisboa
In Lisbon, in Chiado, in the Benard cake shop, which opened its doors in 1868, croissants are the speciality, and next to it, the Brasileira was one of the first places in the city to start selling espresso coffee. It was also known as a place frequented by Fernando Pessoa and for being a meeting point for artists and writers. The same neighbourhood has the oldest bookshops in the country that are still trading, Bertrand, established in 1732, and Ferin, which opened in 1840.

Heading down from Chiado towards the river, the Bar Americano and the British Bar take us back to the first decades of the twentieth century, to a time when sailors from all over the world would came here to find some entertainment, on their Atlantic voyages. Look out for the names of the bars in Cais do Sodré, alluding to the nationalities of their customers and foreign cities.

In the Baixa, there are also cake shops, delicatessens, and shops selling fabrics and other articles that have been there for many years; of these we should mention Luvaria Ulisses and Chapelaria Azevedo Rua, with tradition and expertise in the art of making gloves and hats.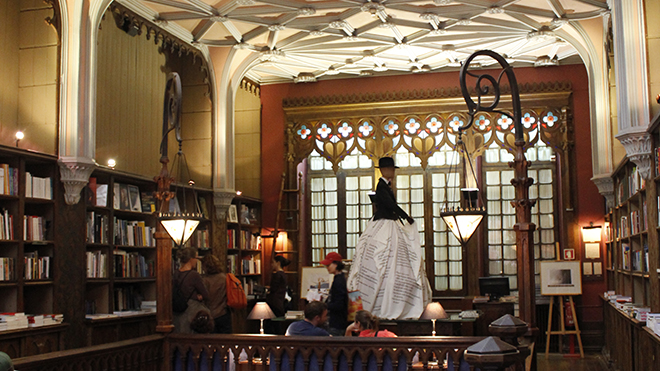 Livraria Lello, Porto

In Porto, in one of the city's busiest neighbourhoods we find the A Favorita do Bolhão and Pérola do Bolhão grocery stores, the best places to buy confectionery, dried fruits and nuts, olive oil, traditional preserves, liqueurs and port. Very close by, the Majestic café is a popular place to take a break when visiting the city, as is the Café Guarany, with its terrace, in the middle of Avenida dos Aliados. Chocolate lovers should not miss a visit to Arcádia, a Portuguese brand worth knowing about.

Amongst many other stores in Porto, we must mention Livraria Lello, with its inspiring Art Nouveau style, and the Café Pinguim, known for poetry nights, cultural gatherings and its gin-and-tonics. In-house, there is a well-known catchphrase: "The Pinguim [penguin] does not live by Gin alone."

For a different experience... if you need to trim your beard or cut your hair, you'll still find traditional barber shops that are part of the city's hundred-year-old heritage.

In Coimbra, student customs have always characterized life in the city. It is therefore natural that the "republics", university communities run like small associations, play an important part in its history. Two such "republics" are the República dos Inkas and the Real República dos Pyn-Güyns which were instrumental in the academic crisis that occurred in 1969, under the Estado Novo regime. There are quite a few in the city and their doors are open to anyone who might like to visit and learn about them.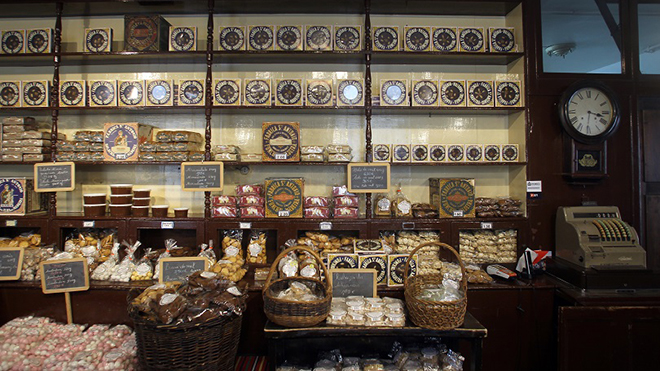 Fábrica Santo António, Funchal
On the island of Madeira, a tour around the historic centre of Funchal will take you by some original shops. The António Faustino de Abreu hardware store opened its doors in 1940 and has been running the same business since then. The building is interesting in that it is typical of the trading houses of the late nineteenth-early twentieth century that are not found today. In the Barbearia Turista, near the Funchal marina, they have been cutting hair for at least 125 years. Bordal, an embroidery and needlecraft shop in operation since 1956, has been acquiring the materials of old embroidery businesses that were closing and has created a Historic Embroidery Route of Madeira, which depicts 150 years of this tradition. No visit is complete without sampling the famous English-influenced biscuits and crackers made in the Fábrica Santo António.

Many other shops and stories can be added to these examples, and you can find then at www.comerciocomhistoria.gov.pt.
---