Take a little of Portugal home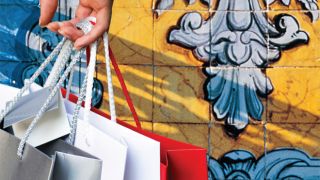 When we make a trip or discover a new place, we like to take a souvenir home or take the opportunity to buy some gifts. We usually look for objects or products that are representative of the country and its culture, which are unique.

It won't be difficult to find any of the pieces mentioned when visiting Portugal, but you can always include older and traditional stores in your programme, which you can find in the "Comércio com História" [Trade with History] project. When visiting a museum, be sure to stop at the relevant store and let the Portuguese articles surprise you.

Here are some ideas about what to take home.

Cork
Cork is one of the country's most characteristic natural products. Portugal is the world's foremost manufacturer of cork and accounts for 53% of world production. Besides this, the area of cork oak plantations corresponds to 25% of its distribution worldwide.
Although cork stoppers are the most familiar object, many other things are made of cork, particularly in the areas where it is produced such as the Alentejo, where 72% of total production is concentrated. Cork fabric was recently created, and you can find many objects, accessories, shoes and clothes made with this material, which has some greatly appreciated properties, such as the fact that it is sturdy, versatile, recyclable, hypoallergenic and has thermal qualities.

Gold and silver work
There is a tradition of jewellery in Portugal and there are many artists who are currently recognised for the design quality of their work with silver, gold and gemstones.
In Porto and the North, gold is worked in filigree, which combines very fine threads and tiny metal balls welded to compose a very closely worked ornamental design. It can also be done in silver. Even today, the participants in traditional festivals, such as Nossa Senhora da Agonia in Viana do Castelo, show off the filigree pieces that are part of the bridal folk costumes.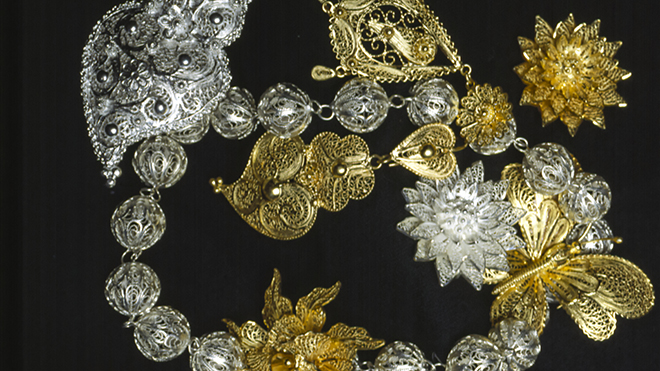 Filigrana, Viana do Castelo

Textiles
The textile industry is one of the most representative in the Portuguese economy, accounting for 10% of exports. The fabrics are recognised for their quality, and are the choice for many brands worldwide, both for clothing or household items. Portuguese designers like Ana Salazar, Fátima Lopes, the duo Manuel Alves/José Gonçalves, José António Tenente, Filipe Fapisca and Storytailors, among others, are internationally recognised references in fashion and design.

The woollen mills of Serra da Estrela have tradition, but it is still possible to find handmade woollens, such as blankets, fabrics and garments, in every region where sheep are raised. Amongst the most artisanal fabrics, burel, made entirely of wool, has great strength and durability. These qualities are a result of its unique manufacturing process in which, after weaving, the fabric passes through a machine which beats and scalds the wool, giving it the appearance of a compact and sturdy cloth. Woollen yarn is used in the art of tapestry.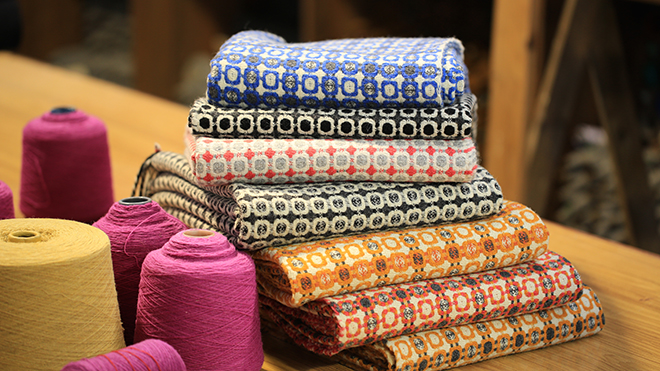 © Loja do Burel, Lisboa

Craftsmanship is expressed in the embroidery of every region. Among the various types of work that can be found all over the country, some stand out for being more traditional. In the north, in the Viana do Castelo region, the colourful lovers' handkerchiefs are popular, with their small birds and messages of friendship and love. By the sea, Vila do Conde, Peniche and the Algarve are known for their bobbin lacework, originally made by the fishermen's wives. The delicate work of Madeira embroidery, handmade for over 150 years, is also very much appreciated.

Tapestries
The most representative Portuguese work is in the Arraiolos carpets, which have been hand embroidered since the 15th century. The tapestries manufactured in Portalegre are worth a mention, being mostly used for wall decoration. The pieces are made on a loom using a unique technique that enables paintings to be accurately reproduced, thanks to the characteristics of Portalegre stitching and the possibility of using halftones in the dyeing of the yarn. Many Portuguese artists such as Vítor Pomar, Vieira da Silva and Almada Negreiros have works reproduced in Portalegre tapestries.

Find out more about the traditional arts and crafts of Alentejo at www.visitalentejo.pt or about the local ways of doing things in Algarve at www.visitalgarve.pt. If you would like more details about the history of Madeira Embroidery, check this site www.visitmadeira.pt.

Shoes
Shoes are another very significant sector in the Portuguese economy. Several Portuguese brands of shoes are internationally renowned for their quality and design. About 90% of production is destined for export.
The most internationally known brands are: Fly London, Camport, Eject, Exceed, Hard Hearted Harlot Shoes, Mackjames, Prophecy, Softwaves (GoAir, Go Green), Luís Onofre, Paulo Brandão, Miguel Vieira and Carlos Santos. The latter are recognised in the luxury segment.

Glazed tiles
Tiles are everywhere in Portugal, and highly representative of Portuguese culture. They are in the streets, on the façades of buildings and inside the houses, but also applied to small decorative and utilitarian objects. A small glazed square is unique and is always a great souvenir. In the art of ceramics, porcelain work is also important, with Portuguese brands supplying the tableware for many European royal houses.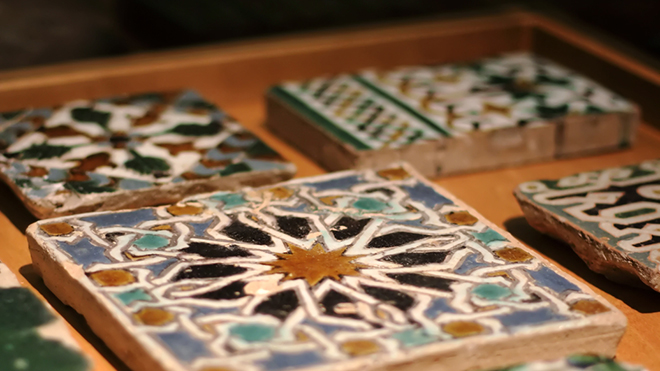 © Museu Nacional do Azulejo

Pottery
It is customary to find work in clay in traditional markets and fairs right across the country. In the Alentejo, pottery is one of the main handicrafts in which you can still find artisans working, keeping old production processes alive. The painted pottery of Redondo, Viana do Alentejo and São Pedro do Corval is famous, along with the production centres in Flor da Rosa and Estremoz, and the stone pottery from Nisa, in which the clay is decorated with designs made with tiny white inlaid stones.
It should be noted that the distinctiveness of the workmanship of the black pottery of Bisalhães (near Vila Real) and the technique of modelling the clay figures of Estremoz have already been recognized by UNESCO as Intangible Heritage of Humanity.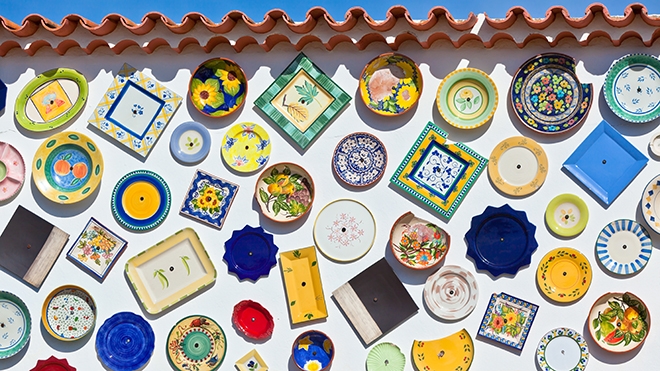 © dvoevnore / iStock

Ceramics
In the art of pottery, we can single out the hand-painted ceramic articles from Viana do Castelo, Coimbra and Alcobaça, replicas of pieces from the 17th and 18th centuries, and some Portuguese brands like Vista Alegre, internationally recognized and notable for the balance between tradition and modernity of its pieces. In utilitarian and decorative pottery, the Bordallo Pinheiro Factory is another fine example, with pieces inspired by aspects of nature, such as plants and animals. Swallows, which have often decorated Portuguese houses around the world, are some of the most popular pieces today.

If you happen to be travelling around Central Portugal, follow the Rota da Cerâmica [Porcelain Route].

Wine
A bottle of wine is always appreciated, whether it's the classic Port or Madeira fortified wines or a good reserve or table wine from one of the demarcated wine regions. After all, Portugal is the 11th wine-producing country in the world and the 10th for exports.
Wine can be purchased at a wine shop for more specialised and personal advice, but you will find a good range in any supermarket. If you are in doubt and because the choice is so vast, it is always useful to consult Wines of Portugal, which has shops at the major airports.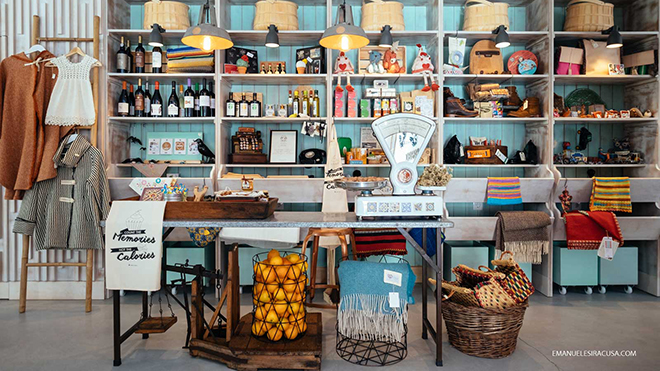 Centro de Portugal, Luz Houses Fátima © Emanuele Siracusa

Gourmet products
Some products that are part of the Portuguese cuisine are also great ideas for small gifts or just to take home the flavour of Portugal with you.
Olive groves predominate in the south, in the northeast of Portugal and inland in the centre of Portugal, and Portuguese olive oil has qualities that are recognised worldwide, with prizes won in European organic farming. Olives are constantly used in Portuguese cuisine and highly appreciated as an aperitif, usually served as part of the cover charge in restaurants.
Fishing and the fish canning industry is one of Portugal's main businesses, amongst the more traditional ones. Recently, there has been a strong focus on the revitalisation of Portuguese brands of canned fish, whose quality is appreciated worldwide.
Cheeses, jams and convent sweets and dried fruits like walnuts, almonds, hazelnuts, pine nuts, figs, raisins and chestnuts are also worth mentioning. In terms of pastries, the pastel de nata [custard tart] comes to mind as one of Portugal's best-loved specialities.
---