Ecotourism in Castro Verde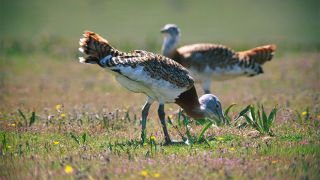 Take some binoculars with you and prepare to wile away the hours staring out over the plains. That is the only way to marvel at the wide variety of bird species, hidden in the golden plains around Castro Verde.

These plains - which have a whitened tone during the summer - are known as the "Campo Branco" (White Field). This is a special protection zone for birdlife, including typical species from the cereal growing steppes of the "Alentejan hinterland", such as the stone curlew or black-bellied sandgrouse. Watch their movements and make sure to have a camera with you, ready to take some snaps, in order to make sure that these stunning images are not stored solely in your memories.

The Vale Gonçalinho Environmental Education Centre has defined several environmental circuits, passing through the most interesting points, providing you with information to make the most of your trip. If you prefer, you can also use the services of a professional guide, who is the best person to explain the habits of the birds in the zone.

Did you know about the crane that migrates from Northern Europe - flying thousands of kilometres in order to spend the winter in the Alentejo? The lesser kestrel arrives in February and leaves in the beginning of the summer, after building its nests on top of ruined buildings.The bittern finds the perfect year-round habitat in these large cornfields.

And make sure to see the great bustard – the symbol of Castro Verde - the largest flying bird in Europe that may grow to the size of a turkey, weighing 16 kg. Of the 1,500 specimens found in Portugal around 1,350 live here. At the end of springtime, see how the male shows off his colourful feathers and fans out his tail feathers as part of his nuptial parade. Who knows whether you'll have the opportunity to watch this spectacle of nature?

The continuity of the landscape is only broken by several weirs and streams that attract various aquatic birds such as the great crested grebe or the gadwall. When visiting the Monte da Rocha Dam, if you hear laughter but can't see anybody, don't be puzzled, because it's bound to be the birdsong of the collared pratincole. Join in the chorus and allow yourself to be carried away by their joy!
---