Ria Formosa and the Marshlands of Castro Marim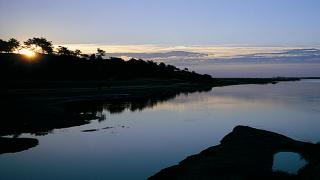 ---
Don't miss
identify the various birds that can be heard everywhere
admire the dark blue plumage of the gallinule, an endangered species which is the symbol of the Ria Formosa Natural Park
visit the kennels where the water dog, an indigenous Portuguese breed, is reared
go to the seafood festivals held in August in Faro and Olhão
cycle or walk the trails amid the salt pans in the Castro Marim Marshlands and see how salt is extracted
Ria Formosa, the most important wildlife sanctuary in the Algarve, and the Castro Marim and Vila Real de Santo António marshlands – the River Guadiana wetland zone – are two protected areas waiting to be discovered on foot or by boat. Trips that will surely stay in your memory!

The best way to start your visit is to talk to those in the know. The relevant Environmental Education Centres provide information about the species that can be seen and the best footpaths to take to fully enjoy the scenery, while respecting nature. And there is much to admire in these labyrinths of channels. From the green vegetation that harmonises with the blue waters and contrasts with the whiteness of the salt pans, to the pink hues of the flamingos' feathers, you will find many excuses to take the photographs of your dreams. You'll find it hard not to keep pressing the shutter!

On the long strip of sand that separates the Ria Formosa from the sea you will discover some beautiful, almost deserted, beaches, while the Natural Park, which extends over 60 kilometres between the Ancão Peninsula and Manta Rota Beach, is frequented by about 1500 species of living creatures. The gallinule and kingfishers with their showy plumage, the chameleon that takes on the colours of the places it passes through, and the warm and fuzzy Portuguese water dog are just some of the regular residents.

But in this oasis of preserved flora and fauna, there is also a wide variety of molluscs which foster one of the main regional activities and provide gastronomic specialties that will delight you, such as razor clam rice, oysters and mussels. To have a proper view of this area and its size, you have to seek the high points, such as the Cacela Velha fortress, a village of Arab origin worthy of a visit.

If you look to the east, you almost make out the Castro Marim and Vila Real de Santo António Marshlands, the first Nature Reserve created in our country. This area of salt pans, pastures and marshes is bounded by the two towns and stretches along the River Guadiana.

In addition to the hiking trails, you can enjoy a wide-ranging view over the area from Castro Marim castle or get to know it in a more relaxed manner by boat. On the shore, you can discover frogs, toads, newts and sand-lizards, and up above the white stork, the black-winged stilt and the heron crisscross the horizon, commanding undivided attention. There's also a dry area of farmland where cereal crops and almond trees, fig trees, carob trees and olive trees are grown. There is a lot to see in between swathes of gleaming nature!
---