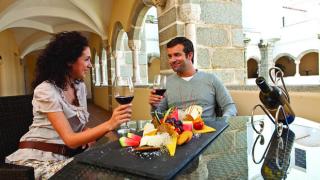 A wine producing region with a long tradition, the Alentejo boasts wines that will surprise you for their excellence, aromas and colours as unique as the landscape and the cuisine.

This region, where the skyline extends as far as the eye can see, on which the cork oaks bestow a sense of strength and durability, was once an expanse of wheat fields. Today, the wheat fields have been replaced by vast vineyards, whose wines take in the power of the landscape and the heat, and can be counted amongst the most celebrated in Portugal.

Besides the Alentejo Regional Wine, which is found all over the region, wine producers are spread across 8 areas bearing a designation of origin - Portalegre, Borba, Redondo, Reguengos, Vidigueira, Évora, Granja/Amareleja and Moura, which allows for a diversity of choice anywhere in Alentejo.

The distinct characteristics of the soils according to area (granite, limestone, Mediterranean or schist), the long hours of exposure to the sun and a group of selected grape varieties enable high quality production, combined with the ability to preserve the tradition of flavour, while innovating in the art of winemaking.

There is a distinction between the white wines, which are aromatic, fresh and balanced, and the red wines, ruby- or garnet-coloured, which are more intense, full-bodied and at the same time smooth and slightly astringent.


---
---