Caramulo, Açor and Lousã – other mountain ranges to explore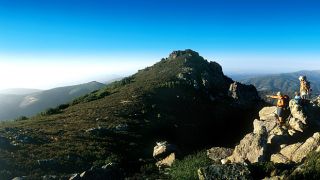 ---
Don't miss
try the Caramulinho aerial slide
take a raft or canoe down the streams of Serra do Caramulo
marvel at the Fraga da Pena waterfalls
admire the plant life at Mata da Margaraça
ride down the Serra da Lousã hillsides on a mountain bike
climb up the Penedos de Góis
have a swim at one of many river beaches in the region
trek along the "Schist Trails"
The most common image of Centro de Portugal is of nature in its purest state, massive mountains and many rivers in deep valleys, creating landscapes of great beauty.

The highest and most famous mountain is Serra da Estrela, but Centro de Portugal also has others that are worth exploring.

These are places to discover unhurriedly, breathing in the fresh air and enjoying the preserved nature on quiet walks or in more adrenaline-pumping activities.

But there are more adventures to be had in these mountains, amid pristine landscapes and the silence of nature. There's nothing better for the soul.

To the north, Serra do Caramulo, whose highest point, Caramulinho, is at 1075 metres above sea level and offers fine views over the whole region.

Classified as a protected landscape, Serra do Açor is amazing from the top of its 1349 metres. The terraces, the water running in channels and the impressive wood, Mata da Margaraça make it a quite different kind of place

To the west, Serra da Lousã has some real scenic treasures and monuments and is also a choice location for radical sports.

---
---