Guimarães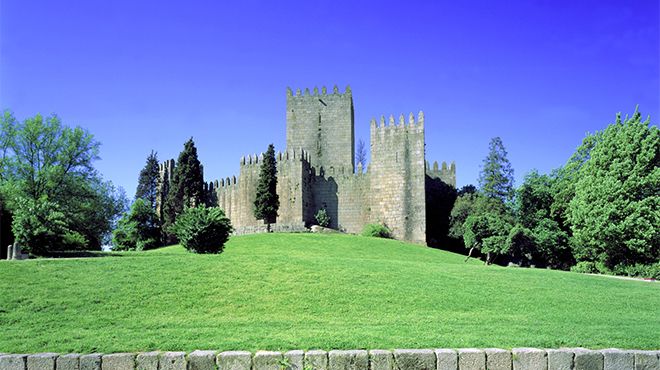 Guimarães
On 13 December 2001, UNESCO inscribed the historical centre of the city of Guimarães on the list of World Heritage. A distinction that is fully merited by this city, one that is full of historical memories and has so carefully preserved its heritage and public spaces for the pleasure and delight of its visitors.

For Portuguese people, Guimarães has a very special symbolic value, for it was in a field close to the walls of its castle that D. Afonso Henriques fought the Battle of São Mamede, on 24 June 1128. By emerging victorious from this struggle against the army of D. Teresa, his mother and the daughter of Alfonso VI of León and Castile, Afonso Henriques began the process that would lead to the foundation of the kingdom of Portugal, of which he was to become the first king.

You should therefore begin by visiting the site known as Colina Sagrada (Sacred Hill), crowned by Guimarães Castle, itself full of so many evocative memories, as well as the small Romanesque church of São Miguel. According to tradition, it was in this modest church that Afonso Henriques was baptised in the font that can still be seen inside. In an interpretation created by the sculptor Soares dos Reis (1834), an imposing statue placed further down the hill makes it possible for us to imagine both the face and physical features of the first Portuguese king.

In the immediate vicinity is the Ducal Palace, now both a palace and a museum, originally built in the 15th century.

After visiting these important points of reference to the time of the foundation of Portugal, you should stroll down into Guimarães, where we suggest you choose the Largo da Oliveira, the very heart of the historical centre, as the starting point for your visit.

If you would like to see the city at its most magnificent, you should drive up the 7-kilometre road to the top of Monte da Penha, from where you will have the chance to enjoy one of the most impressive panoramic views in the north of Portugal.

This road will take you past the Pousada de Santa Marinha da Costa, an old convent founded by D. Mafalda de Sabóia, the wife of D. Afonso Henriques. This building contains an interesting mixture of styles and epochs, which the skilful intervention of the architect Fernando Távora has transformed into a pousada. The church (rebuilt in the 18th century), the cloister, the cells adapted to form bedrooms and the beautiful balcony of São Jerónimo (St. Jerome), with its view over the gardens, are all more than enough reasons to stop off here for a while.

You may also choose to take the cable car to the top: it is only a few minutes' journey connecting the centre of the city to this spot suspended on high, the site chosen for the shrine of Nossa Senhora da Penha.
---
---