Sé Catedral da Guarda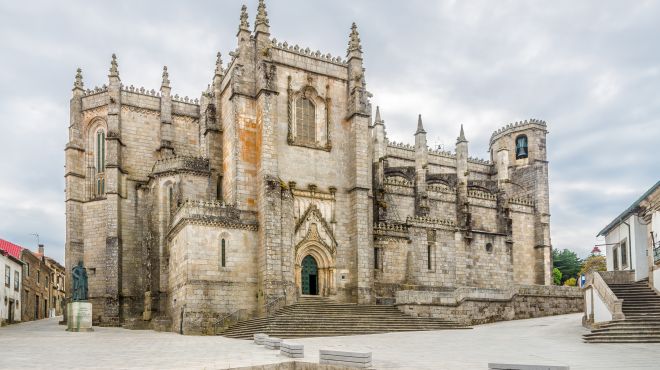 Sé Catedral da Guarda
One of the most interesting Portuguese monuments.

Although Guarda has been the seat of bishopric since its foundation, when D. Sancho I asked Pope Innocent III to transfer the diocese of Egitânia (Idanha-a-Velha) to the new city, the building that is presently in the centre of the village was built from 1390, by initiative of D. João I, to replace the old cathedrals that had been erected outside the walls. Construction was slow, ending only in 1517, during the reign of D. João III and the bishopric of D. Jorge de Melo.
Normally this cathedral would be considered Late Gothic style, with Manueline influences from the shipyard of Batalha Monastery. Its exterior sobriety is accentuated by the heavy octagonal towers which give it the appearance of church-fortress, typical of a time when the great Portuguese cathedrals also represented an affirmation of nationality. This sobriety is perforated by beautiful decoration of the portals - Gothic in the main and Renaissance on the side. Here some of the era's most renowned artists worked: Huguet, Diogo de Boitaca, Marcos Pires and Pedro and Filipe Henriques, offspring of Mateus Fernandes.
The floor-plan follows medieval typology, in a Latin cross with three naves (the central one is the tallest), a wide transept and a sanctuary with three communicating chapels. Inside, the great altarpiece of the chancel, carved in stone from Ançã, is worthy of note. Accompanying the semicircular form of the apse, it develops over four hierarchical records: the first, the Apostles; the second, Moses, Ezekiel, Elijah and Daniel, the Annunciation and the Nativity; the third, the Virgin of the Assumption; and, finally, scenes of the Passion of Christ. It is a work of Renaissance art, comprising over one hundred sculpted figures, produced in the workshop of João de Ruão, showing an acceptance of Mannerism that characterises the work of this sculptor from thereon in. It was commissioned by Bishop D. Cristóvão de Castro, Lord of Monsanto and chief lieutenant of Covilhã. A humanist, he was the ambassador of D. Manuel I in Rome, at the court of Pope Alexander VI, where he discovered the new artistic styles he wanted to apply in his bishopric.
Contacts
Address:
Praça Luís de Camões 
6300-725 Guarda
Telephone:
+351 271 212 993
Summer (June / September): 10am – 1.30pm / 3pm – 6.30pm;
Winter (October / May): 9am – 12.30pm / 2pm – 5.30pm
---