Festa dos Tabuleiros (Festival of the Trays)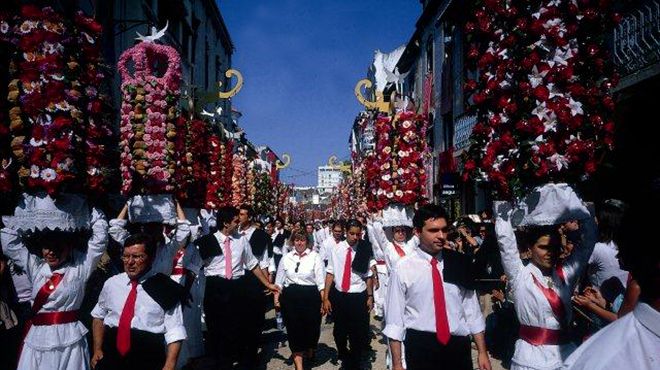 Festa dos Tabuleiros (Festival of the Trays)
The Festival of the Trays takes place every four years; the next one will take place in July 2023. Do not miss this unique event!

The blessing of the trays, the street decorations, the quilts in the windows and the throwing of flowers over the procession of the trays carried by hundreds of young girls on their heads, is an unforgettable sight.
The Procession of the Tabuleiros, heralded by pipers and fireworks, is led by the Banner of the Holy Ghost and the three Crowns of the Emperors and Kings. They are followed by the Banners and Crowns from all the parishes, and the girls carrying the trays. In the rear are the cartloads of bread, meat and wine, pulled by the symbolic sacrificial oxen, with golden horns and sashes.

The girls who carry the trays have to wear long white dresses with a coloured sash across the chest. They are helped by boys, who also wear a formal costume, white shirts with rolled-up sleeves, dark trousers, a black tasselled cap and a tie matching the girl´s sash. The tabuleiro (tray headdress), which must be of the same height as the girl, is made up of 30 loaves of bread, specially shaped and each weighing 400 grams, threaded at equal spaces on 5 or 6 canes. The canes are tied to a wicker basket, and at the top there is a Crown with the Cross of Christ or the Dove of the Holy Ghost. The decoration is completed by paper flowers, greenery and wheat sheaves.
Start Date:
01 July 2023
End Date:
10 July 2023
Contacts
---
---