Nature in Noudar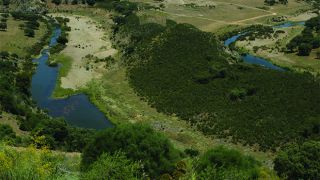 Come to Barrancos to uncover a well-kept secret – Noudar Nature Park. You have three options to enjoy this preserved environment – on foot, by bike or in an environmently-friendly vehicle.

Before starting your trip, visit Monte da Coitadinha. Here you can obtain information in order to organise your visit, or even rent some equipment items that you've forgotten to bring with you, such as binoculars or an all-terrain bike. There are many signs of the agricultural use of this Estate – such as the old threshing floor, an excellent spot in order to admire the landscape of the oak plantations of Alentejo.

Follow the trails and fill your lungs with fresh air, as you try to distinguish the aromas from the surrounding countryside. In order to make sure you don't get confused, take a digital guide with you - a precious tool in order to identify the plants that you'll find along the way.

Such a wealth of vegetation in a tranquil environment attracts a high number of birds, such as the black vultures that guard over the castle of Noudar, as they stare around the surrounding area. This is the most impressive bird in the Park. When it takes off, its wings - when stretched out by the side of its body - form a line measuring almost 3 m in length. The fortress is also one of the favourite perches for black storks which can also be seen in other high points between March and August, such as riverside crags or electricity pylons.Cranes arrive in the winter and can be heard mainly at dawn and dusk. If you're lucky you'll be able to observe the "dances" of these elegant birds, that in some countries are considered to be symbols of happiness and longevity.

The Ribeira da Múrtega stream marks the southern border of the Park. Today it runs more slowly, but for many centuries the local watermills were driven by the force of its waters, producing the essential ingredient of recipes in Alentejo – bread. Enjoy some bread with regional cheese or French lavender honey in a picnic, listening to the melodious warbling of robins in the background.

Another sound that sometimes breaks the silence is the rutting cries of deers during their mating rituals. Or perhaps you can listen to the noise of wild boars as they rummage through the leaves, in order to teach their young where to find the best foodstuffs. This is the constant simmering energy of Nature. Discover it in Noudar.
---