Villages of Góis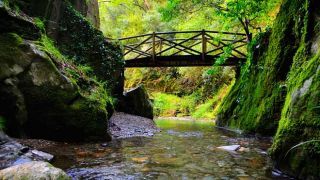 Journey along the panoramic road to Alto do Trevim and discover the villages of Aigra Velha, Aigra Nova, Pena and Comareira.
These four slate villages pertain to the municipality of Góis – set against a serene landscape, where you'll be captivated by the friendliness of the local people. Start in Aigra Velha. In the background, you'll hear the tinkling bells of sheep as they graze in the surrounding fields. The village streets – once frequented by traders' caravans who stayed here overnight on their way across the mountains – are now very quiet, stirred only by the sound of birds warbling in the distance.

In Aigra Nova, you'll encounter Trevim peak, the highest point in the Serra da Lousã, that towers majestically over the landscape - 1,204 metres above sea level. The summit offers one of the finest belvederes over the surrounding valley, where deer and wild boar live peacefully, sheltered from the world. Make sure to visit the Social Centre, which contains the Villages Museum - where you can learn more about these lands and people.Also discover the Tree Nursery and the Regional Products Shop.

The next village along the route is Pena. The local stream, with crystal clear waters, is ideal for a refreshing dip on a hot summer day. The village is flanked by the Penedos de Góis boulders - popular amongst more adventurous mountain climbers.

Finally, it's well worth visiting the village of Comareira. The local inhabitants boast that this sunny village is the ideal strategic point for visitors to the slate villages, since they can enjoy the surrounding nature in the Oitava Forestry Park, relax on riverside beaches or go for walks down pedestrian footpaths, organised by the Village Friends League.

This is merely a suggestion. You should start your trip wherever you wish. Make sure to discover this unspoilt land - where the landscape always stretches out to the distant horizon.
---