Port Wine Lodges, Vila Nova de Gaia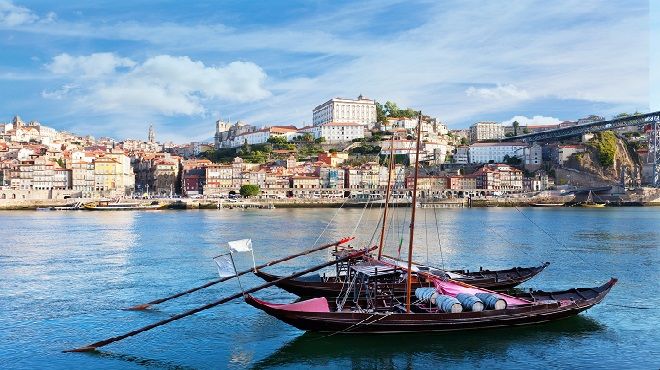 Port Wine Lodges, Vila Nova de Gaia
Port wine is born in the valley of the River Douro, but it is beside the city that gave it its name that it ages and gains the flavour that makes it quite unmistakable.
It is cultivated on terraces carved long ago by man on the banks of the River Douro, in an area that was safeguarded in 1756 by the Companhia Geral da Agricultura das Vinhas do Alto Douro, thus making it one of the oldest demarcated wine regions in the world. In 2001, the Alto Douro Vinhateiro region was classified as a World Heritage site by UNESCO.
The river has always been used to transport the wine barrels to the mouth of the Douro in boats specific for this purpose, the Rabelo boats. We can still see and admire them today, on the quays of Porto and Vila Nova de Gaia, where the lodges are clustered in which the wine ages before being marketed worldwide. In order to spread the word about the history of port, most of the lodges are open to the public and offer guided tours and tastings.
You can get to the Lodges from the Ribeira district of Porto by walking across the Ponte Luís I on the lower deck. You can also cross the bridge via the upper deck, from Batalha to Serra do Pilar and then reach the lodges on foot or by cable car. This is a mandatory stop for anyone visiting the north of the country.
Check the lodges and visits available in the Circuits and Tourism Services / Enotourism and Gastronomy option of the advanced search area.
Contacts
Address:
Vila Nova de Gaia
---
---